Everyone is looking for iridescent stickers – and they're worth the hype. Iridescent stickers are stickers that have a colorful, reflective, eye-catching appearance. Their unique rainbow-sheen shine adds special appearance to any existing design, that's why iridescent stickers are ideal for decorating, promoting or whatever purpose of attention-grabbing.
Recently, there are countless printers or retailers offering this sticker type in various shapes, sizes and quantities. However, if you are a crafting lover or you just want to print your own unique iridescent stickers, you'll see this article is extremely helpful. Below we'll show youthe 3 simplest methods to make your own holographic stickers at home with the most affordable and easy to find materials. What else are you waiting for? Let's dive in!
1. Using holographic laminating film
If you already have your usual stickers and want to add sparkle effects to them, this is the way to go. In this method, we'll apply onto the stickers' surface an extra layer of laminating film with iridescent effect to turn them into sparkling ones. Shiny laminating sheets with various types of patterns can be easily found at stationery stores, craft stores or e-commerce sites. Thus, this is the easiest way to do, especially for those who are not familiar with the designing or printing process.
List of materials you will need:
Stickers (in any shape)
Transparent iridescent laminating sheet (Self-adhesive or hot laminating, depend on what lamination method you prefer)
Laminating machine (if you using heat lamination method)
Tracing paper, double-sided tape and a pencil (if you want to make partial shiny stickers)
Scissor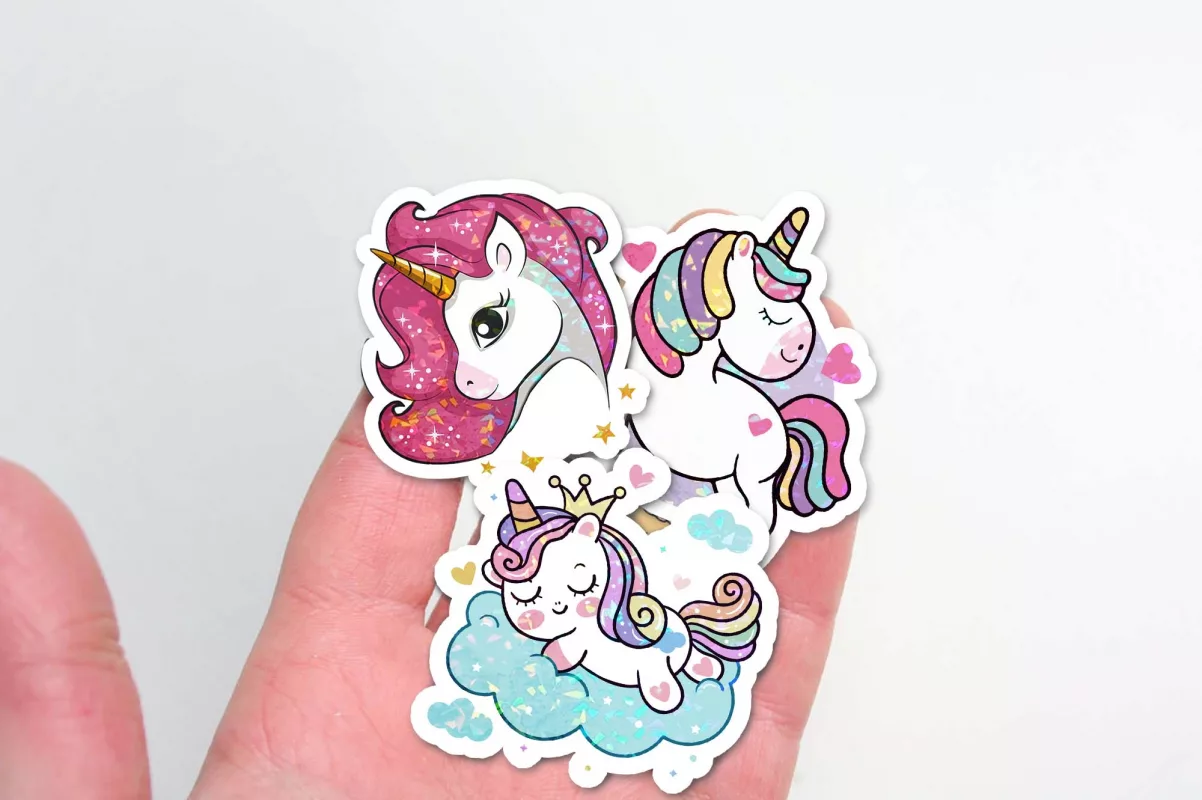 To make iridescent stickers with a holographic laminating film, follow these steps:
Step 1: Use the scissor to cut out a piece about the size of your sticker from the laminating sheet. You can place your sticker in one corner of the laminating sheet and cut along the border of the sticker to thoroughly reduce waste.
Step 2: Peel the backing of the laminating piece, try to not touch the sticky side too much with your finger tips. Carefully stick it to the sticker surface and press it down with pressure and make sure there are no bubbles under the laminating layer.
Step 3: Trim it again to make sure the laminating layer does not exceed the sticker. And here we go, you have an iridescent sticker with a perfect cut.
If you prefer heat lamination, put the sticker with laminating film already applied onto its surface, into your machine. Run it through and after seconds you get your durable thermal laminated stickers with rainbow shine effect.
In case you want to make your sticker iridescent partially, make use of see-through tracing paper. Place it on top of your sticker, draw lines with a pencil to mark the part where you want to add the sparkle effect. Then, using double-sided tape to glue the tracing paper and the laminating film together (place the sticky side of the laminating film outward). This allows your cutting process to be more precise.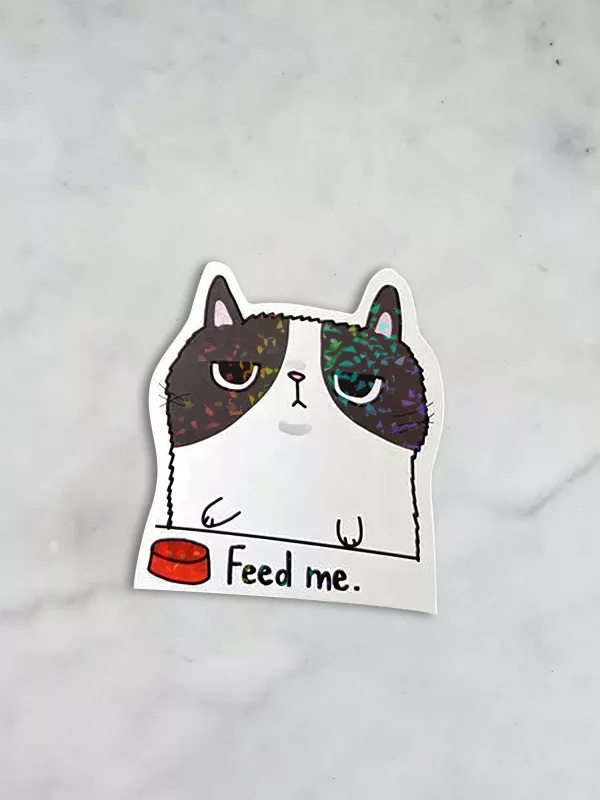 Cut these sheets along the drawn line, then peel off the laminating film's backing and stick it onto the desired area of your sticker. At this point, the line that you have drawn on the tracing paper will help in exactly aligning where the laminating piece will be pasted. Finally, peel the tracing paper along with the double-sided tape from your sticker and your work is done.
In fact, this method is just like an easy crafting project where you make homemade iridescent stickers with simple materials and steps. The extra glowing laminating layer not only enhances your sticker appearance but also adds an extra protective barrier to your sticky beauties. Using lamination is a cost effective way for beginners and amateurs to do without worrying about purchasing stickers in bulk from professional printers.
2. Print on holographic vinyl
Although using laminating film is an economical way to create iridescent stickers, sometimes you may not get the perfect result, especially when you are not a handyman. If so, consider using a printer and holographic vinyl instead. This is also how to make holographic stickers. Iridescent (or holographic) stickers made this way are different from stickers using laminating film, in that the sparkle effect comes from the vinyl which you print stickers on, not from the coating layer. With that in mind, prepare these things before you start working:
Holographic vinyl sheets
A printer
A computer that can connect to the printer
The sticker design in your computer software
A scissor
This method is straightforward, even easier than the first one. However, it requires you to choose the right iridescent sticker paper and sticker printer, as well as have a well-designed sticker file, suitable for holographic printing.
How to print hologram overlays? Once you have all required materials, open the software (Photoshop, Procreate or Illustrator), arrange and position single stickers to fit the size of the holographic sheet. Then, connect your computer to the printer, put the vinyl sheet in, click print and wait for it to print out your iridescent stickers. Stickers printed on this material already have a holographic effect so you don't need any extra holographic laminate film to make them shine. Finally, take the scissors to cut each holographic sticker apart to use.
3. Print on glitter vinyl
How to print stickers on glitter vinyl is very similar to how to print on holographic vinyl. This method just allows you to make another kind of iridescent stickers, which have different patterns from DIY holographic stickers. For clearer visualization, you can refer to the photos of glitter vinyl sticker below.
The steps to make stickers using this method are exactly the same as those of the second method, you just need to change the printing material to glitter vinyl. Iridescent stickers made of this material are more like glitter, hence the name of the vinyl. However, unlike holographic vinyl, glitter sticker paper gives you much more color choices. You can completely print stickers on glitter vinyl of green, pink, orange, blue or any color you like. The variety of colors and the increase in sparkle make custom glitter stickers even more prominent compared to holographic stickers. If you are a glitter lover, don't miss out on this method.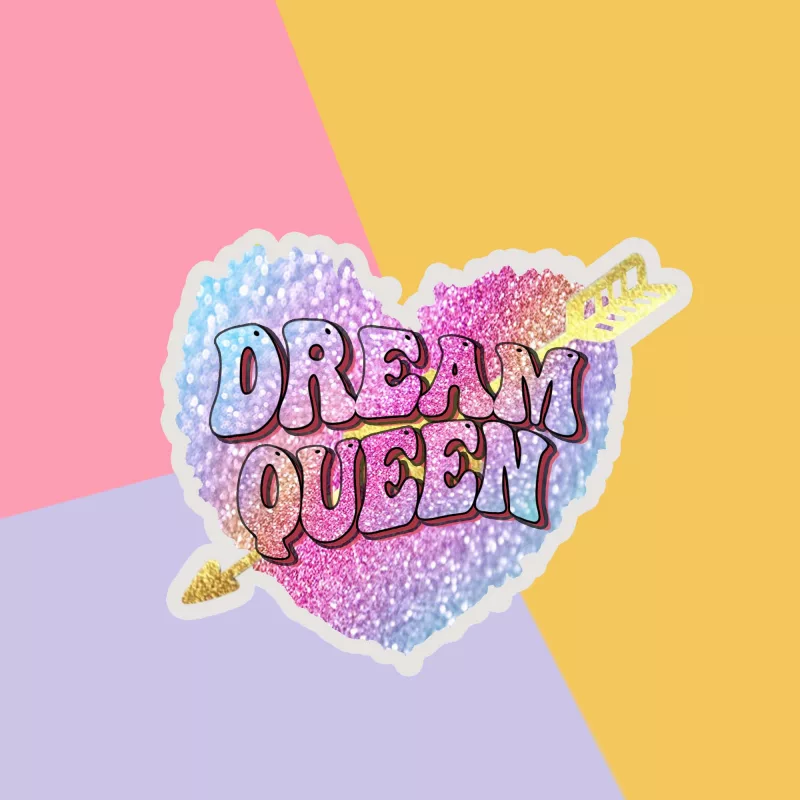 We hope that the 3 methods above are useful for you to add a shiny effect to your stickers. Iridescent stickers are so much fun to make no matter what method you choose. Before making yours, consider the materials you have and determine the sticker finish you desire to choose a suitable and effective method. Don't forget to visit our website to keep up to date of interesting sticker templates and the trendiest iridescent stickers – we're sure that it could bring you tons of new ideas.