Avatar was a successful movie. Millions of people throughout the world are fans of the enchanted beauty of the Navi's land and all its inhabitants. As a result, they made Avatar the subject of many parties to satisfy this fondness. People celebrate many Avatar theme parties, from Avatar wedding theme, Avatar halloween costume to Avatar birthday party. An Avatar Theme Party will be memorable with the flight to a wonderful world. You will be immersed in the world of the people of Navi, imagining that you are living in the world only in the movie, being turned into a character you love. Isn't this great for Avatar enthusiasts?
So, to make your dream come true, this article will list the most fantastic Avatar themed party ideas for decorations, costumes, music and food.
1. Aesthetic invitations to inform your Avatar Theme Party
Of course, the blue paper should be used in this instance. Create your own invitations to your Avatar party by printing out and cutting out characters from the film, such as Jake Sully and Neytiri. You could get creative by initiating that everyone has an Avatar name, which is a shortened version of their real-life name. For example, you can call "Bri'an Smeeth" instead of "Brian Smith." And, when giving your address, instead of mentioning the city, specify your street and the word "Hometree."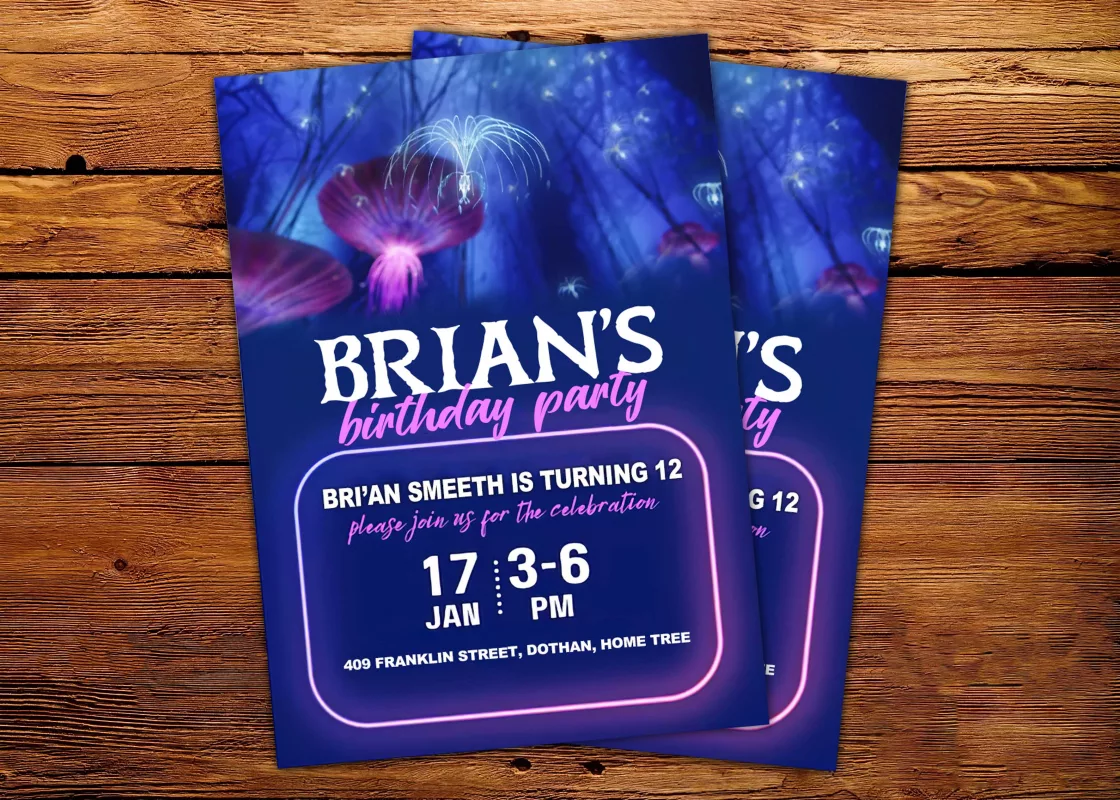 2. Dress up for a Pandora Native Look
First, set a blue, black, or silver dress code. Avatar makeup is necessary, and your tribe's overall appearance may be unified by following the color theme. You can make yourself more like movie characters by wearing avatar hair, avatar braids, etc. You can also invite your guests to paint Avatar t-shirts or design DIY Avatar costumes.
There are several characters that you can cosplay:
Humans
Corporal Jake Sully
Colonel Miles Quaritch
Dr. Grace Augustine
Trudy Chacón
Parker Selfridge
Dr. Norm Spellman
Dr. Max Patel.
NaVi
Neytiri
Mo'at
Tsu'tey
Eytucan
3. Dive in Pandora world with cool avatar party decorations
With an Avatar theme party, it just takes a few well-placed details to transform your home into a veritable Hometree of Pandora. The following are a few Pandora Avatar room decor concepts to consider:
The Bio-luminescence
The jungle of Avatar Pandora at night was transformed into a dazzling, enchanted display of luminous flora and fauna. If you only have a little light in the basement where your party will be held, consider setting up all your decorations in front of a black avatar pandora wallpaper. Use glow-in-the-dark paint to decorate your tablecloth, balloons, and streamers. Put out the lights, and everything will be bathed in a dim, diffuse light.
If you have some spare time, you might invest in some huge silk leaves and painstakingly paint the veins that go through each leaf. Because in the movie, much of the bio-luminescence came from leaf veins and its margins, it's best to paint these two points.
The alien jungle
James Cameron, the film's director, is a marine biology enthusiast, and his enthusiasm for the undersea creature is palpable in the film's alien jungle. There are several Avatar creatures of Pandora that appear like they were based on real marine organisms but are really magnificent creations. The "Seeds of Eywa" in the 3-D edition, for example, appear eerily like jellyfish, and this is not a coincidence.
Keeping this in mind, you may create Pandora's jungle by hanging blue and green entangled streamers on the wall to mimic tree limbs and by hanging colorful streamers on the ceiling to symbolize vines. Finally, set out some Pandoran "lifeforms", and you'll feel like you've stepped onto an alien Avatar pandora landscape entirely!
Posters
It is not an issue at all if you do not have the time to construct an imaginative set. Posters from the film, as well as enormous collectible figurines based on the Avatar theme, are for sale. Posters are an extremely important part of the decoration of any party. Having posters about the characters or the vivid world in the movie will make your Avatar theme party more realistic than ever.
Since the animals of Pandora are all glowing, they are great for a blacklight poster. So utilizing a Poster with Pandora landscape is an excellent option. If you are more interested in blacklight posters, you'll find our article helpful. Put them up, along with some other sci-fi memorabilia and toys like action figures and dolls, then immerse yourself in the music mentioned below, and you can settle down for a wonderful party.
4. Use Avatar theme songs as your party music
Music is an essential aspect of every celebration. When deciding on a soundtrack, keep that in mind. You might look for a soundtrack that fits the genre of the film or a certain scene from the film. Do you plan on hiring a DJ, or will you control the music yourself? If you choose the second option, here is where you may discover music from your Avatar movie.
Additionally, you may play the Avatar movie as a sound and visual background. You could build up a big screen and use a projector to play the movie whenever you want, as long as you have the room and the weather cooperates. A wall facing outdoors would be ideal for this purpose. If it's winter, that's obviously not a viable alternative. A free wall inside might work, too.
5. Delicious Avatar party supplies for the Na'vi
Some suggestions for party food and drink for an Avatar-themed event are as follows.
Cocktails: Blue Curaçao-based
The liqueur known as blue curacao has an orange taste and a little bitterness. It is used to provide a blue hue to a selection of fruit-based beverages.
You can apply some recipes below:
The "Na'vi Bikini Martini"
Two fluid ounces of your favorite gin
Two ounces of blue curacao
A few peach schnapps
Add an orange slice for decoration.
The Blue Lagoon of Pandora:
Blue Curaçao, 2 ounces
Vodka lemonade 2 oz.
Put these two ingredients into a tall glass full of ice. Fill the rest up with a slice of lemonade on top.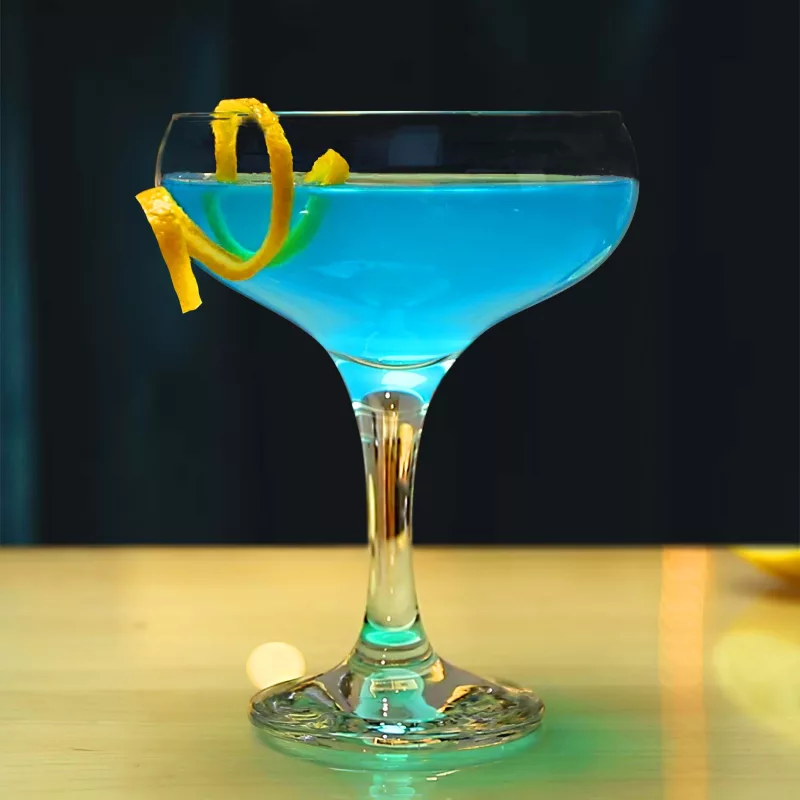 Non-alcoholic beverages
A glass of blue ice – Blue ice cubes may be made by filling ice cube trays halfway with water and the other half with the blue punch (blueberry or blue raspberry work well). They boost the flavor of juice or lemonade, or any other beverage.
Sunset in Pandora – made using red syrup, blue raspberry juice, or Grenadine. Put the syrup in first, then the juice. Since syrup is heavier than water, it will naturally settle to the bottom, giving the drink an interesting three-dimensional appearance. Float a maraschino cherry on top to represent the setting sun over the ocean.
Foods with a Blue Color
Because the theme color in the movie Avatar is blue, your party dishes should also be blue to make the party look its best. Or, you can use sustainable sea food, since James Cameron's passion for marine life served as the inspiration for Pandora's green alien jungle. Some more considerations:
Salad with pears and blue cheese
Seafood such as oysters, mussels, and squid. Fish like yellowfin tuna, cod, shrimp, Dungeness crab, and abalone.
Pancakes with blueberries
Hamburgers topped with blue cheese
Conclusion
It's fun to greet visitors by organizing an Avatar theme party. Your party will be a lot more meaningful if you are able to plan, prepare, and decorate it with friends and family. Besides, you can also order some more decorations to make the party more professional and movie-like. Besides writing creative invitations, you can dress up and put on makeup to turn yourself into your favorite movie character.In addition, music and food are indispensable in any Avatar theme party. Remember to play the movie's theme songs and use blue as the color of your food and drinks. All these will make your Avatar themed party a fantastic and unforgettable one.
If doing all these processes takes time, another excellent idea is purchasing posters. Posters are a great choice for attracting attention because of their vast surface area, which allows for plenty of text and visuals. The stunning poster is a wonderful addition to any Avatar themed party. And if you are considering buying posters for your Avatar themed party or any other party theme, please visit our website. We guarantee to bring you the best designs at the most reasonable prices.