Admit it, you can't deny the exclusive feeling that holographic effect brings to the stickers world. For personal use, holographic stickers add metallic shimmer on your daily necessities. For business use, iconic and memorable holographic labels draw customers' attention to your products and brand. However, not every design is suitable and efficacious to turn into a custom holographic sticker. If you are not sure whether your artwork would be great in iridescent rainbow sheen or how to design hologram stickers, read along with our article. We've rounded up for you 5 holographic design ideas that absolutely pop and their best applications.
1. Full holographic stickers or holographic lettering
We'll start with the simplest for holographic design stickers: lettering. These letter stickers are not likely to print but cut from a holographic vinyl sheet, so they are holographic sparkle on their full surface. Mostly featuring beautiful hand calligraphed, holographic vinyl letters are great for showing your name or inspirational quotes.
Because holographic lettering sparkles over their entire surface, the applications to get the most out of them are on plain or transparent surfaces. For example, you can apply holographic quotes decals on your hydro flask, bedroom walls, bathroom mirror, window or doors. Also, holographic design stickers are a great decorative addition to your belongings such as cups, tumblers, notebooks, phone or phone case, laptop, helmet and many more.
When using holographic stickers on cups, mugs or water bottles, remember to gently hand wash them with soap and warm water. Although they are microwave and dishwasher safe, this is recommended to extend the lifespan of the vinyl lettering stickers and decals.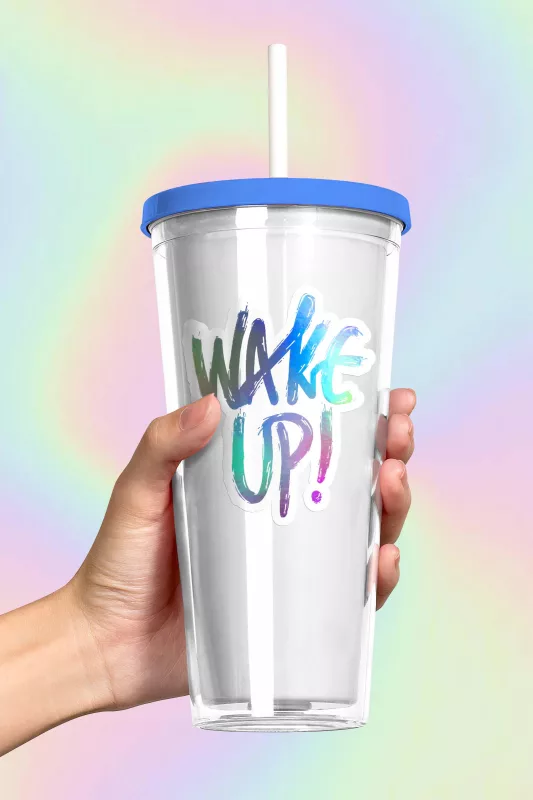 2. Black details with holographic contrast
A design in black and white can never go wrong, but in most cases it seems boring to use as a sticker. Imagine you have a black and white sticker in which the white takes up quite a large area. What you can do to add mesmerism to your sticker is to turn it into a full black with holographic contrast. Instead of printing white on your sticker vinyl, leave that space empty. This will let the holographic effect of the vinyl layer completely shine through. The contrast between black parts and holographic parts absolutely makes your holographic artwork pop.
As mentioned above, this holographic design inspiration is most suitable for simple black and white drawings, featuring people, objects or simply some lines with letters. The color scheme brings a sense of magic so if you love gothic, give it a try.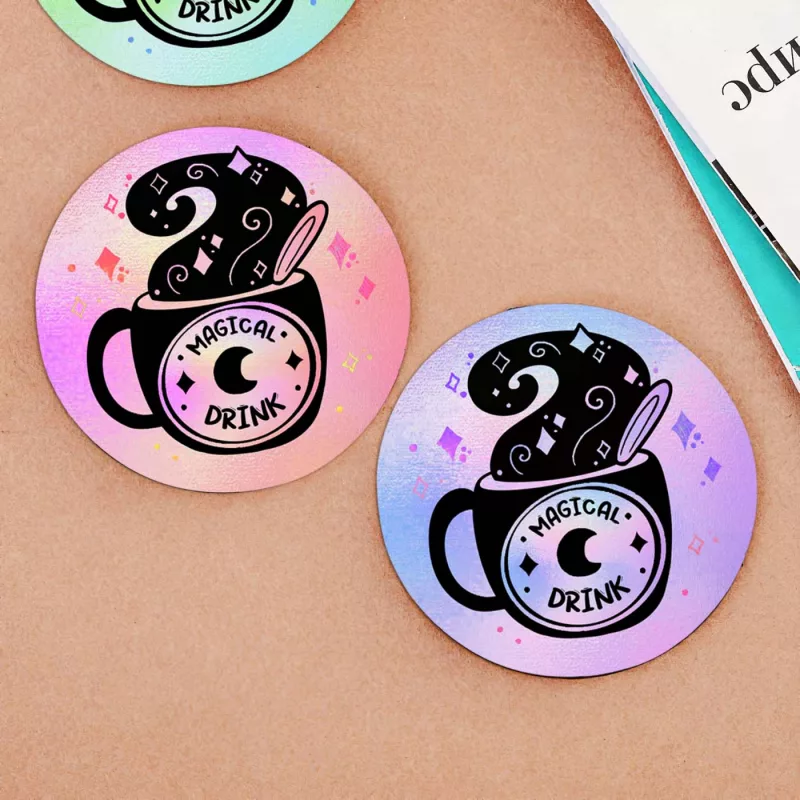 3. Holographic highlights on a primarily black background
If you feel the suggestion above seems a little bit pompous, or you just want to use the holographic effect as a highlight for your design, this idea is for you. Using holographic highlights on a primarily black background brings your sticker a unique appearance without being a "noisy" sticker above all.
Black, not like other colors, blocks holographic effects out instead of blending with it. Thus, a black background is perfect for your holographic figures to stand out. Similar to the second method, leave the desired spaces empty (where you want to add sparkles), to get the most out of the holographic effect.
Try designs featuring thin lines for this black holographic sticker, such as henna drawings, both simple and complex. This type is especially a great idea to use on brand logos or product labels, in which black ink is printed on most of the surface and the remaining blank spaces will reveal the holographic effect and create the shape of the letters.
You can check out some of the elegant stickers with holographic highlights that we've made below.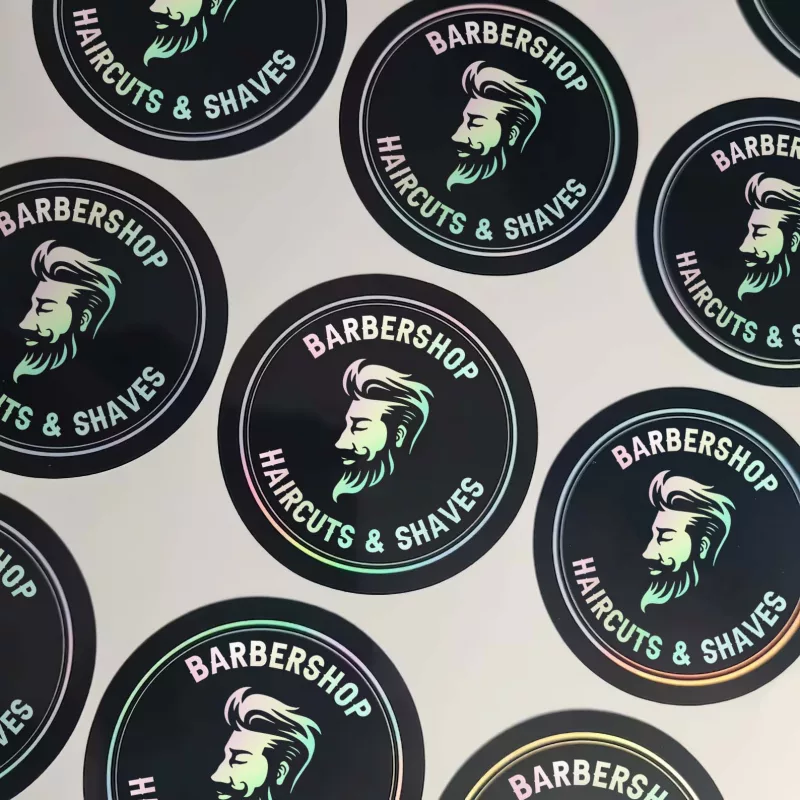 4. Primarily color with holographic border
A sticker design with a white border around it is too familiar and boring, isn't it? Have you ever thought about turning these boring borders into the highlight of the sticker by adding holographic to them? This is a creative move.
This idea is for designs that already have lots of hues and the user doesn't want to say something big with their stickers. Despite not creating high contrast and strong visual effects compared to using black with iridescent space, this holographic design inspiration is enough to make your sticker stand out among dozens of other ordinary ones.
Another great mark is that primarily colored with holographic border stickers are so flexible. The iridescent rainbow sheen border can be easily added in the printing process and removed after that. Specifically, you can cut them off with a scissor if you don't want the holographic effects anymore – it's all your choice.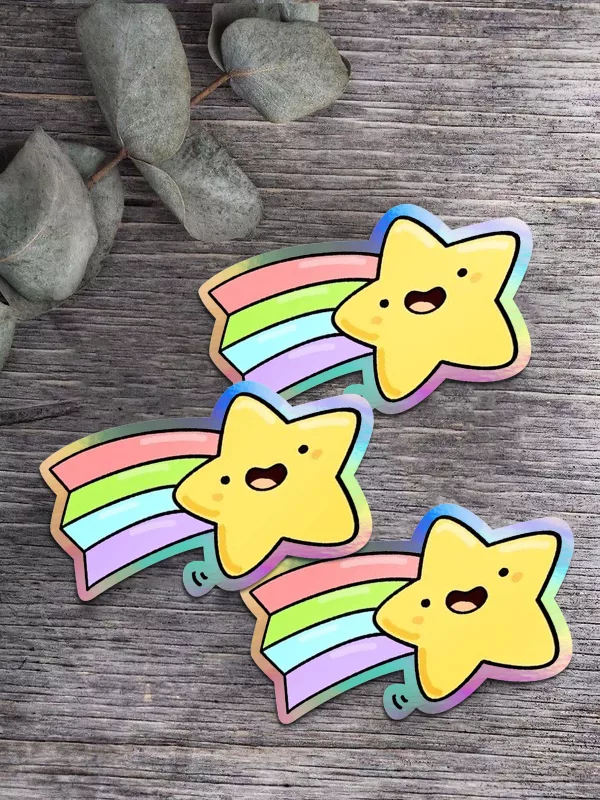 5. Full color holographic stickers
Want to make a big impression with a far-out holographic design? Use full color stickers with holographic effect on the entire surface. To print hologram stickers in full surface seems to be the most familiar to individual users because of its popularity. They will complete a beautiful look for your personal belongings such as notebooks, water bottles, laptops – or household appliances like cups, mugs, or even fridge doors. For business use, the full shiny stickers are great giveaways on company events or glassdoor signs on showrooms and many more.
For this holographic design inspiration, to make your own hologram stickers, remember to adjust the saturation of your artwork. The reason is almost every color printed on holographic vinyl will be blended with this shiny effect, but in different levels. A low saturation will make the color look brighter, then give more of a holographic effect; meanwhile, increasing your graphic saturation allows you to lessen the shiny effect on your full-color design. Knowing how to adjust and control the artwork's saturation helps you keep your full holographic design from looking ridiculous.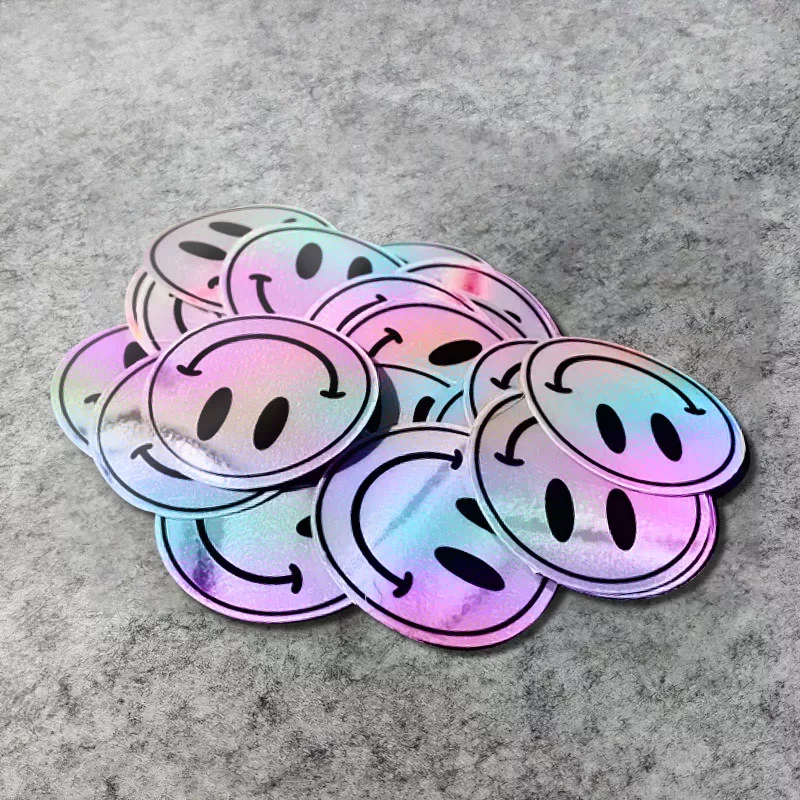 Adding holographic effects to your design is an excellent way to level up your stickers without going back to the first place of the designing process. Just small changes in your holographic designs can totally elevate your original artwork and give your stickers a chance to shine like no other type can do.
Determine what the purpose of your holographic design is to choose the best out of our 5 holographic design inspirations for custom stickers. For quotes and lettering stickers, try full holographic effect. For a gentle logo or elegant product labels, go with a primarily black sticker with holographic highlights or a full color with holographic border. Finally, a black-detailed sticker with holographic contrast and a full-color holographic is for making a big impression.
No matter what you choose for hologram sticker printing, CustomAny Team is here to turn your ideas and designs into real masterpieces. So, if you're ready to try something new and get a little experimental with your brand, customize holographic design stickers with us. Access our website and let our design team accompany you with any idea.