We've heard that you are in the sticker market for an impressive type. Then, holographic stickers are there for you. These stickers stand out from the crowd for their iridescent appearance and their myriad way of applications. If you're still not clear about what the applications can be or curious to know more about this ticker type, you're in the right place. Here you'll find the proper answers to the 9 most frequently asked questions about these shiny little things.
1. What are holographic stickers?
To begin, let's dig deep about what they really are. What does holographic mean? What is a holographic sticker? For your information, this term refers to stickers that are printed on special vinyl to create rainbow-colored sparkle visual effects. Also known as hologram stickers or iridescent stickers, these holographic colors change with the change of light and perspective. This makes them so pretty that they can add special spice to any existing design.
2. How are holographic stickers made?
In fact, there is no difference in the printing process of holographic stickers compared to any other type. The only key to their distinctive look lies in the material that the stickers are printed on, which is iridescent-effect vinyl.
So, before asking how to make holographic stickers, we need to know how this unique vinyl is made. To make holographic vinyl, a polyester film which is covered by a layer of metal, is thinly embossed. The embossing is super thin (only about 10 micrometers) so we may not see it but it creates a totally different appearance for the sticker. Light reflected off this embossed metal surface is diffracted, creating an iridescent effect. This method can create various types of holographic effects such as glitter, iridescent or matte iridescent, depending on the embossing pattern.
Once printers have the suitable holographic vinyl for the desired stickers, they print onto this special surface with ink. After printing on holographic vinyl, a clear laminate layer is applied with high pressure to ensure the durability of these beauties. Besides that, the added laminate is what decides your stickers will be glossy or matte finish.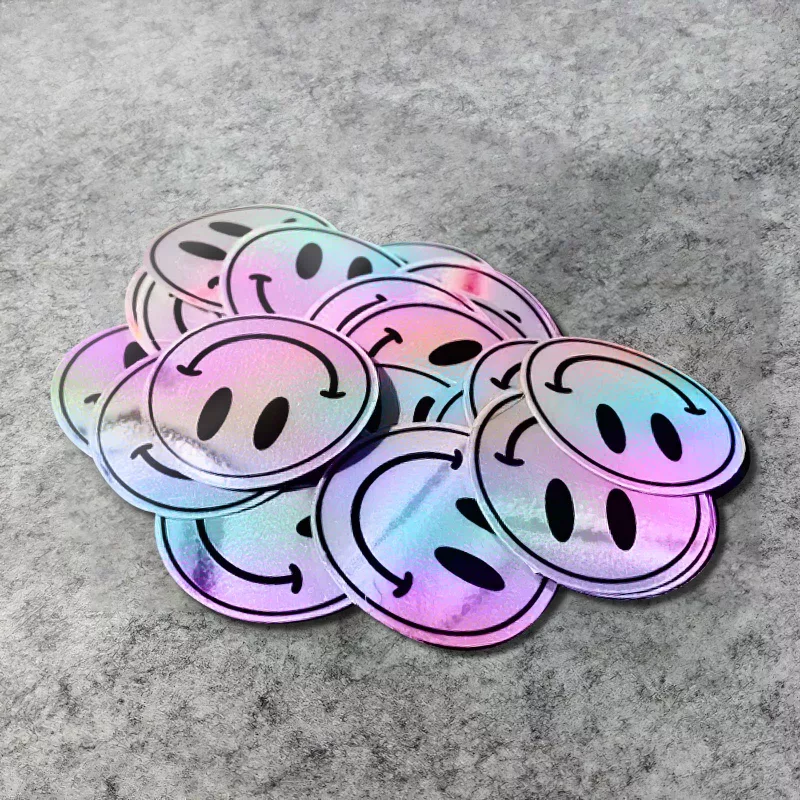 3. Are holographic stickers laminated?
Yes, they are.
As mentioned above, a complete hologram sticker includes 3 layers. The first one is a holographic vinyl, then a layer of ink is printed on, and the top layer is the lamination. This laminating layer is clear to allow the iridescent effect to be fully observed.
4. Are holographic stickers waterproof?
Yes, they are.
Holographic stickers are waterproof due to 2 factors. The first one is their vinyl base layer, which makes them tear resistant and water resistant. The second one is that holographic stickers are carefully coated with a clear laminate layer which, additionally, makes them totally waterproof. So, these shiny stickers are safe under rain or even running through a dishwasher, which makes them ideal to use on water bottles, cars, helmets or any other outdoor use.
5. Do holographic stickers fade?
They don't fade for a relatively long time.
Another highlight feature of laminating holographic stickers is sun protection. The UV resistant lamination film acts as a shield to protect the printed ink layer from sunlight and other elements. Colors on high quality holographic stickers will remain vibrant for at least 1 year even when exposed to these elements.
6. How long does holographic vinyl last?
Actually, it depends.
Because of advances in vinyl base, printing ink and lamination manufacturing, holographic stickers are one of the most durable and long lasting sticker types. As mentioned above, holographic stickers are coated with a lamination film that protects them from scratching, tearing or fading. They can even be submerged in water staying the same, thus safely to use in a dishwasher.
However, not all printers offer holographic stickers in the same quality, so their durability may vary. Make sure to check the expecting lifespan of the sticker on the manufacturer's website before ordering. At CustomAny, You can rest assured about the quality of our products. The materials we use to make your holographic stickers allow them to last for up to 5 years outdoors or in conditions that they are repeatedly exposed to water or chemicals.
7. What are holographic stickers used for?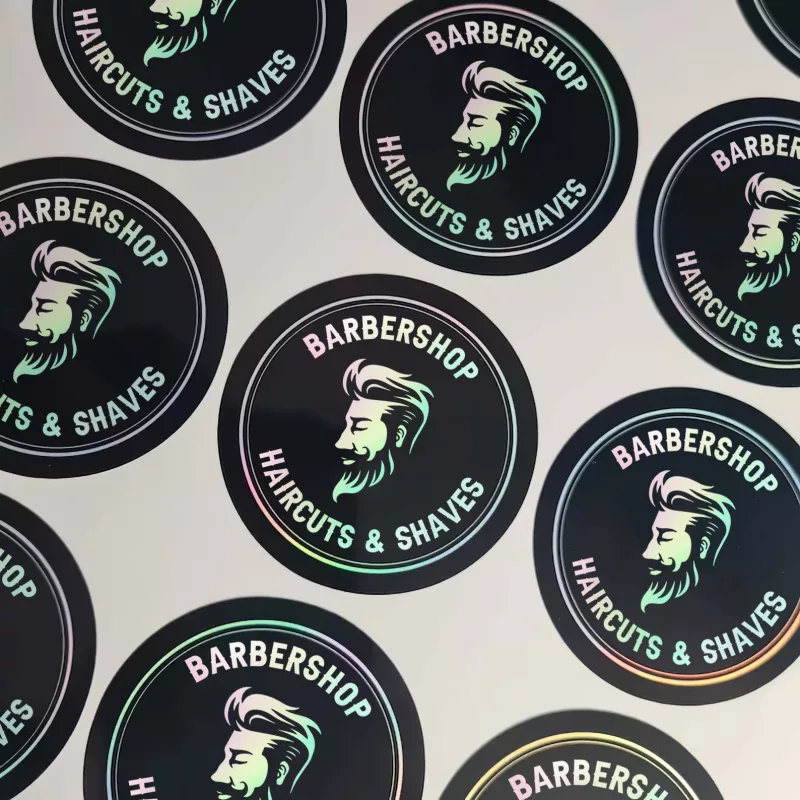 The superiority of the holographic sticker lies in its eye-catching appearance and durability. Thus, these sticky vinyl will keep shining for years without fading or tearing.
For personal use, holographic stickers are a great decoration for your belongings such as laptops, notebooks, hydro flasks and mugs that can safely run through the dishwasher. If you want to personalize your car, motorbikes or bikes, turn hologram stickers into car bumper stickers or something that can stick to your car window. They also serve as great skateboards or helmet stickers as they are UV resistant and waterproof.
For business use, you can create unique brand logos or attention-grabbing product labels using this special type of stickers. It is great being applied to products that will be used in a wet condition such as shampoo or shower gel bottles. In case you own a display booth or a shop with wide glass doors, some sparkling stickers that act as glass signs will significantly make passersby notice.
8. What makes a good holographic sticker?
The truth is everything you print on holographic vinyl will be blended with a holographic effect. Then, a design where all the parts show the same holographic effect is just as impressive as a normal sticker. Holographic effects alone can't make your design stand out, so, create contrast. There are 3 tips to make contrast and instantly bring your holographic stickers from good to great.
The first one, increasing the saturation. This makes colors in your design seem more pure, vivid, rich and bright.
Secondly, try leaving empty spaces in your artwork. These see-through spaces will let holographic material to one hundred percent shine.
Last but not least, use black and white in your design. These 2 colors are the ones that don't blend with holographic effect, so black and white spaces in your stickers will serve as the contrast to make shiny spaces to pop.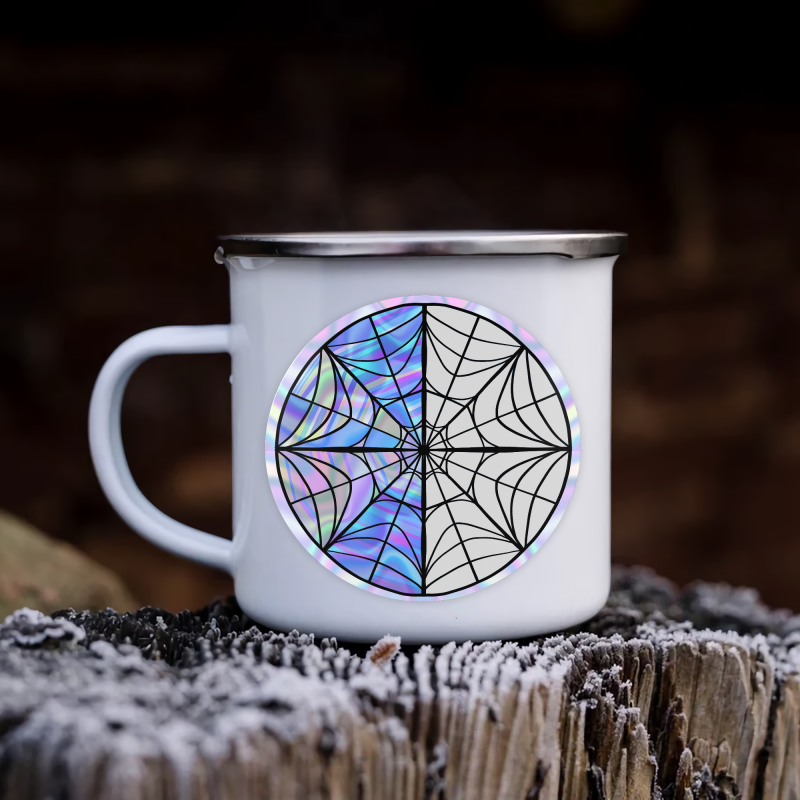 9. How much do holographic stickers cost?
Made of special materials, is the price of holographic stickers much higher than usual stickers?
Actually, the price of a holographic sticker will be a little higher than a regular sticker of the same size. At CustomAny, a 3×3 inch circle sticker will cost you about 3 dollars, whereas you need to pay 4 dollars if you want to print it as a shiny sticker.
Additionally, the cost of holographic vinyl stickers will vary depending on the size you choose. For a popular 3×3 inch size, approximate prices at our website will be:
$20 for 5 stickers ($4 each)
$22 for 10 stickers ($2.2 each)
$80 for 50 stickers ($1.6 each)
$107 for 100 stickers ($1.07 each)
$274 for 500 stickers ($0.548 each)
$445 for 1000 stickers ($0.445 each)
So it can be seen that the price of these iridescent stickers is only slightly different from other types. In addition, with large quantities purchased, the price is also significantly reduced. Compared to the value you get, including aesthetics and durability, investing in holographic stickers is a bargain.
Listed above are the 9 most frequently asked questions about holographic stickers and the detailed answers for them. We hope that you have enough information to be able to design a beautiful sticker artwork which is suitable for the purpose as well as confidently choose the supplier of holographic art printing service with the most favorable price for your holographic sticker needs.