When it comes to utilizing static clings for your window or glass doors, the problem is: Do window clings go inside or outside? Actually, static clings or window clings can be produced in 2 basic options: back cling and face cling. Hence the name, the cling side can be on the front or on the back, which is up to how the customer wants to use their static clings. You need to know some important points between face and back clings so you can properly choose the best one for your window signage needs. 
In this article, we will learn about the difference between the two, as well as see some examples when using face clings and back clings, thus we can get the correct answer for the question "Do window clings go inside or outside your glassdoor?".
What is a window cling?
Do window clings go inside or outside? If we want the most exactly answer for this, frist we need to understand what is a window cling and how does it work.
As we've discussed in the previous post, window cling or static clings are a kind of window stickers and decals, which are commonly used for non-porous surfaces. On windows, mirrors, other high-gloss surfaces like plexiglas, as well as some metal surfaces, custom printed static clings are frequently used. Depending on how often they are used, kept, and exposed to, these reusable window clings can persist for up to 6 months or longer.
Contrary to popular perception about static clings, vinyl plasticizers that are naturally present in vinyl material – their material, hold static clings in place instead of static electricity. You can see this phenomenon when using pool floats. If you've ever used a vinyl beach ball, inner tube, or pool float, you may have noticed that the vinyl tends to want to attach to itself. The vinyl material's plasticizers are the reason for this.
The vinyl plasticizers will eventually fade, the vinyl substance will start to dry up or degrade, and your static clings won't adhere to your windows or other high-gloss surfaces as well. Your static cling may occasionally be revived by adding water, although this is not always the case.
Due to the way the inks react with the vinyl material when we print onto static cling material, the printed side will no longer "cling" to your surface. As a result, you must specify whether your static clings require face cling or back cling adherence, and this also answers the question "Do window clings go inside or outside?"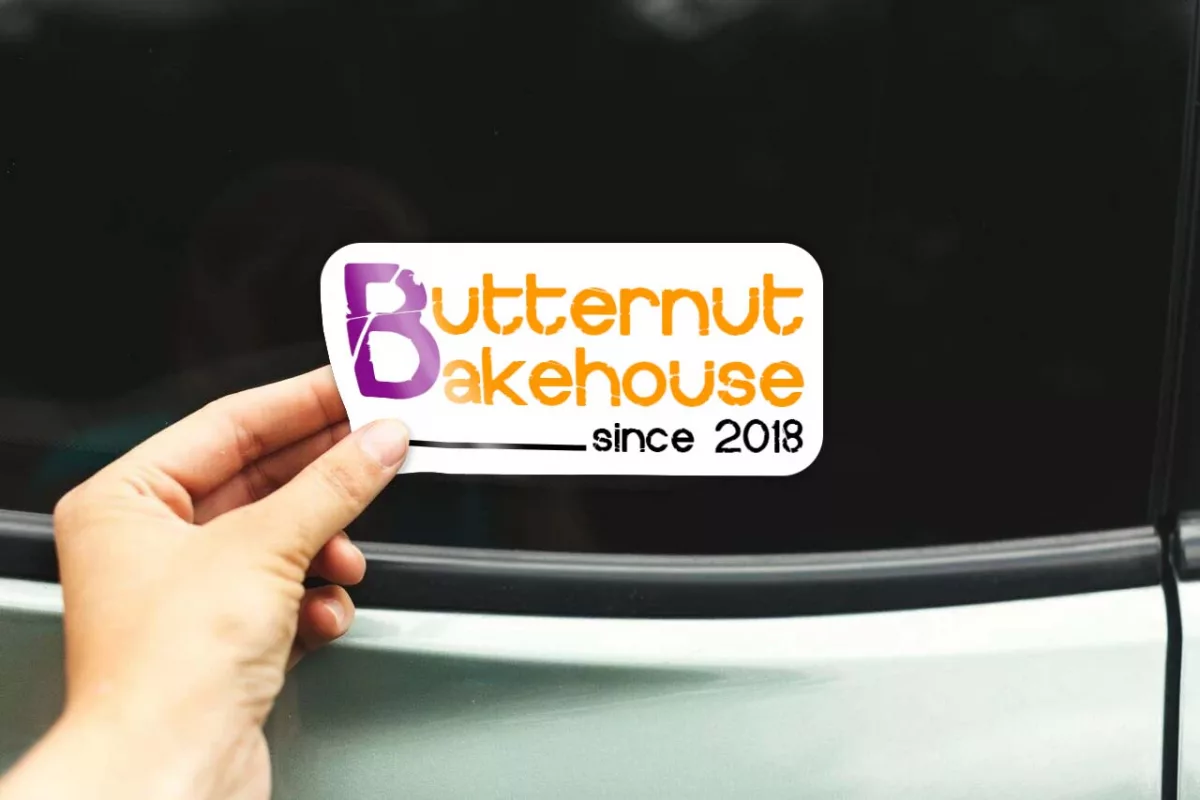 Back vs face clings: what are the differences?
Do window clings go inside or outside your glassdoor? They can do both as there are two options: face clings and back clings for your display method. Depending on how you plan to display your design, learning about their differences will help you select the right cling option.
Firstly, the back clings.
Back clings often function best on interior windows, high gloss painted surfaces like metal filing cabinets and lockers, or an inside office door. We at CustomAny print back clings with the right side up to be seen from the front, just as you would print anything else. Static back clings are not meant to be used on the outside of a glassdoor or outside of vehicles. Any exterior surfaces will become static-cling-free under harsh environment elements or at highway speeds due to wind resistance and friction, which could endanger other drivers. Only at auto shows, parades, or other events where the vehicle will be primarily stationary do we advise using static clings on external vehicle windows.
The other option: face or front clings.
Face clings keep the vinyl material's adhering qualities intact. Designs that work best with the face cling display method are meant to be placed to the inside of a surface that can be seen from the outside. For example, use face clings for automobile windows, glass dividers, store windows, etc.,… The pattern is printed in reverse order onto clear static cling material when we produce face clings. Applying your clings to a window in this way allows you to see the design both through the window and the cling material.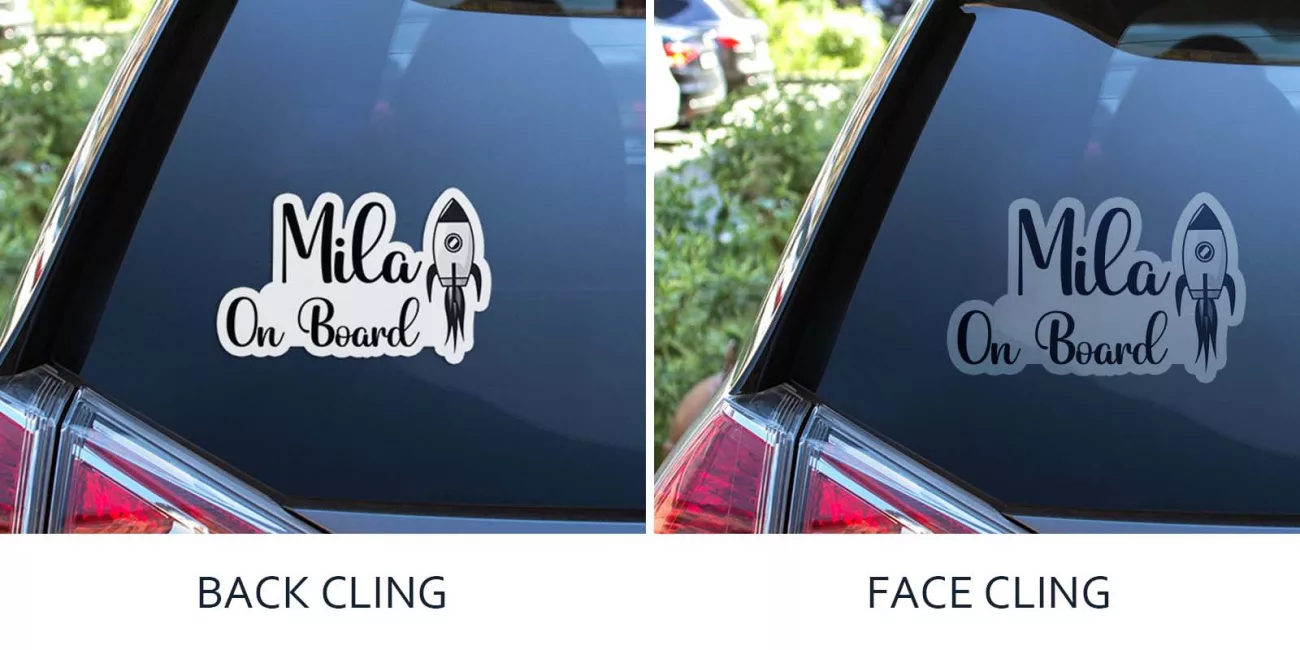 We can summarize the different points of face and back clings as follow:
Points
Back static clings
Face static clings
Purpose of use
– Both clear surfaces and high gloss surfaces
– Designs are seen from the inside
– Apply to the inside of a transparent surface
– Designs are seen from the outside, through the transparent surface
Printing
Ordinary printing
Reverse printing
Structure
The backing is on the back of the cling
The backing is on the front of the cling
Comparions between face clings and back clings
Do window clings go inside or outside your glassdoor?
Now we understand that face cling is used exclusively for transparent surfaces, while back cling can be used for both cases. Do window clings go inside or outside your glassdoor? Or when to use face cling and when to use back cling?
Use back clings and put them go outside of your glassdoor if: Your glass door is not directly affected by harsh environment elements such as sunlight, wind and rain. For example, signage for a showroom inside a shopping mall can be a great application for back clings.
Use back clings and put them go inside of your glassdoor if: You don't need to show something such as a promotion or notification through your door or window. In other words, back cling is more for internal signage than for customer-oriented marketing programs.
Use face clings and put them inside of your glassdoor if: You have a crystal clear window that can be easily seen through; Or you want to showcase your business logo or driving license from inside of your car.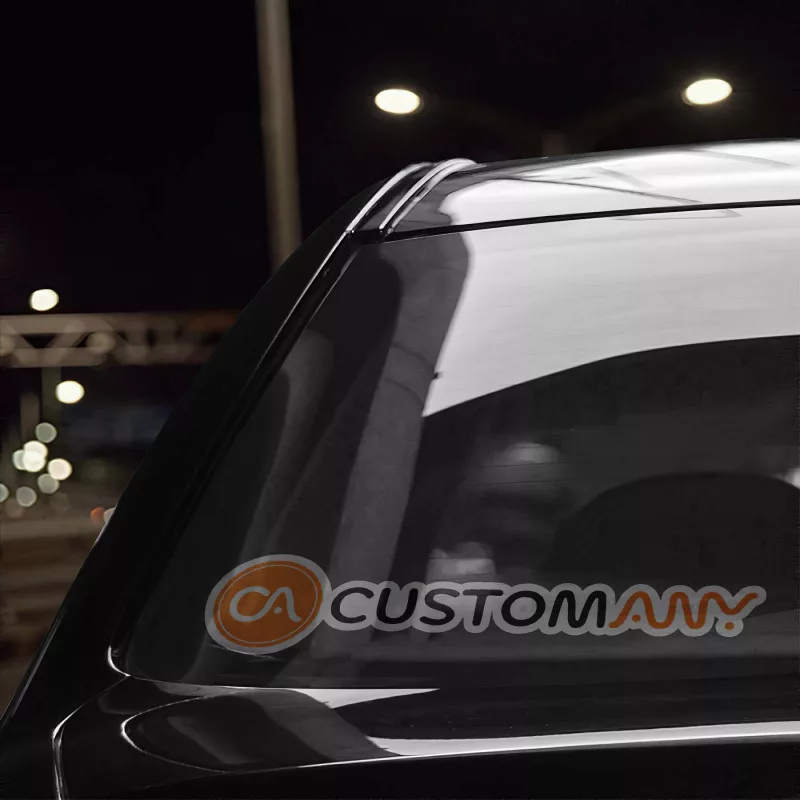 Note: In case your vehicle windows have factory tinting that are so dark to see through, instead of back clings, we recommend you use car decal to apply on the outside of your car for the best visibility of your design. Different from window clings that may be affected by environment elements, vinyl decals are intendedly made for exterior use. You may want to discover more about the differences between window clings and window decals in our previous post.
Conclusion
Both face clings and back clings are an eye-catching, yet tasteful way to showcase your design or alert passersby to your shop? So, the answer for "Do window clings go inside or outside your glassdoor depends on your purpose and the characteristics of the surface you want to spruce up. We're sure that in the article above we went over everything you need to know, including the main differences between back and face clings, as well as which intention is suitable for each of the two. With the final decision on "do window clings go inside or outside", just remember to purchase your static clings from a reputable company that lets you design totally shine with high quality materials.