Today, Etsy is one of the most popular and profitable online marketplaces for handmade and artisan items. Vendors can find success in just about any niche imaginable – including making physical products like stickers.
For those who already have a design, making stickers to sell on Etsy is an excellent way to expand their sales channel. But how to make stickers to sell on Etsy? Here is all the related information and steps that beginners can take to successfully enter the market.
Why Sell Stickers on Etsy?
1. What is Etsy?
Etsy is an online marketplace where individuals from all over the world can join together to trade, buy, and sell their goods. You can find handmade, vintage, custom, and unique gifts for everyone on Etsy. This online market is famous for its handicrafts and personalized items, and tickers are not an exception.
2. Can I make profit when selling sticker on Etsy
With these four key factors in mind, you can confidently answer "yes" to the question of whether or not you can make a profit selling stickers on Etsy:
Large Customer Base – High Demand
Our data shows that the term "stickers" on Etsy has a search volume of 6,488 and a total of 3,924,249 sellers. In comparison, T-shirt – an Etsy hot-selling product – gets 6,352 searches, and the competition gets up to 7,589.992. Because of this, there is a significant demand for the sticker, and the level of competition is not very severe.
Low Start-Up Costs
While selling stickers on Etsy, you only need to pay a small listing fee of $0.20 per item and a 5% transaction fee. You can also use a print-on-demand service to reduce the investment. By doing so, after someone placed an order, you have the product printed and sent by a third-party service, for example using CustomAny's sticker printing service.
Creative Freedom
If you use Etsy to sell stickers, you have complete creative control over your online shop. For example, you may add videos to your items, putting them in the most favorable light possible for potential customers to see.
Flexibility
Etsy offers flexibility for sticker sellers in many ways. Sticker sellers can choose their own sticker's niche and style, production method, pricing and shipping options, and branding and marketing strategies.
Things to look out for when starting selling stickers on Etsy
There are also some things you need to look out for on the way you find out how to make stickers to sell on Etsy:
Competition
As mentioned above, the keyword "stickers" on Etsy has a search volume of 6,488, and the number of competitors is 3,924,249. It is both an opportunity and a challenge for sticker sellers. You have a market with great consumer demand. However, you need to find a way to stand out from numerous other traders and attract customers.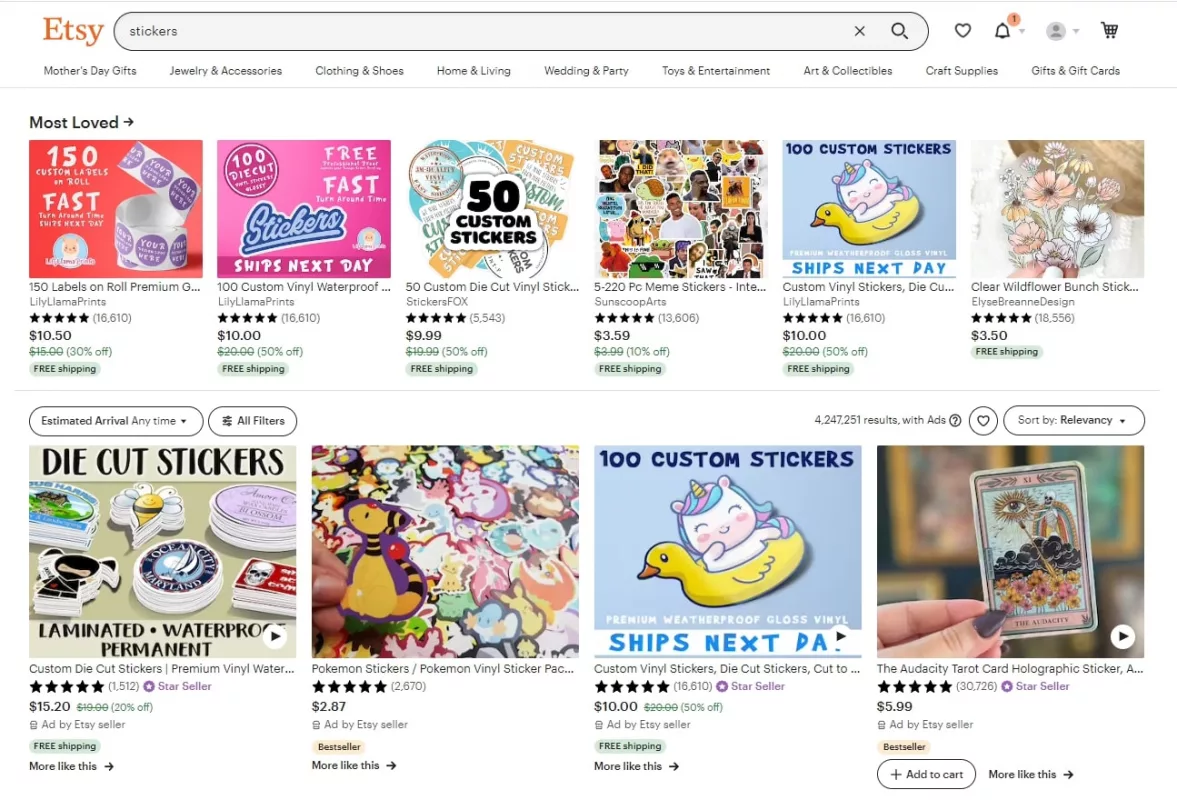 Pricing
Etsy sets a variety of fees, including those for selling items, making purchases, delivering items, and processing payments. For instance, the listing and transaction fees are $0.20 and 5% per item. Additionally, if you use Etsy payments, you will pay a payment processing fee that varies by country.
Shipping Costs and Times
Shipping fees and shipping time for selling stickers on Etsy depend on several factors, including the size and weight of your stickers, the type of mailer you use, the shipping service you choose, and the destination of your package.
Customer Service
Good customer service is the key on Etsy, which helps you build trust and loyalty with your customers, increases your sales and reviews, and resolves any issues or complaints.
It's ideal to answer any customer's questions and confirm orders quickly, provide tracking information, thank them for their purchases, and follow up after delivery. Besides, using automated messages or snippets to save time and ensure consistency when interacting with your customers is highly recommended.
How to make stickers to sell on Etsy? 3 steps for beginners
After understanding factors to look for before running a stickers business on Etsy, the next step is to learn how to make stickers to sell on Etsy.
So, following are 3 important steps on how to sell stickers on Etsy:
Open an Etsy account
Your first need on how to make stickers to sell on Etsy is to create a seller account. If you have ever used Etsy to make a purchase, you can use this account to create your shop.
When you've signed in or registered, there'll be a gray circle with a silhouette in the top right corner – click on it and choose Sell on Etsy.
Then, you will need to enter your preferences (language, currency, etc.), choose a name for your store, and agree to Etsy's policies.
That's a straightforward and quick process.

Create the perfect sticker designs to sell on Etsy
The next move on how to make stickers to sell on Etsy is to make your shop's stickers.When creating your stickers, it's important to create unique designs that stand out from the competition. Avoid copying designs from other artists and instead, come up with your own original ideas.
You can use a design platform like Studio, Photoshop, Illustrator, or Procreate to create your sticker designs. You can also use free tools like Canva or PicMonkey if you don't have access to paid software.
It's highly recommended that you design your Etsy stickers in high resolution (at least 300 dpi) and save them as PNG files with transparent backgrounds. This will ensure that your stickers look crisp and clear when printed.
You should also consider the size and shape of your stickers. There are various formats to choose from, like die-cut, kiss-cut, circle, square, or rectangle.
Once your sticker designs are ready, you can start creating stickers for your Etsy sticker business.
Starting selling them
Starting selling stickers is the final step on how to make your own stickers to sell on Etsy. To do this, you will need to set up your storefront and branding, optimize your SEO, promote your stickers, and provide excellent customer service. Here are our suggestions:
Setting up your storefront and branding is important for attracting customers and building trust. You should add a logo, banner, bio, policies, and FAQs to your store page. It's essential to use a consistent style and tone for your photos and texts.
Optimizing your SEO for getting found by buyers on Etsy. You have to use relevant keywords in your titles, descriptions, tags, and categories. Also, use clear and descriptive photos that showcase your stickers well. Keysearch, eRank, Marmalead, and Alura are some useful tools you should use to improve the keyword's quality for your Etsy sticker shop.
Promoting your stickers to increase your sales and exposure. Social media platforms like Instagram, Pinterest, Facebook, or TikTok can be used to share your designs and drive traffic to your store. Besides, you can use email marketing, blogging, influencer marketing, or paid ads to reach more potential customers.
Maintain a high standard of service in order to encourage satisfied customers to contribute positive reviews and repeat purchasing action. You will definitely increase your sales and get more good feedback from consumers by providing outstanding service. Customers' confidence in you and your business may grow in direct proportion to the number of positive evaluations you get. Customers who have purchased from you before are a great foundation for a loyal client base that will return for more in the future.
Conclusion
The Etsy platform is a great place to start your own sticker business as a beginner. Finding how to start a sticker business on Etsy is not a difficult task, and with the right strategy and skills, you can make sure that you are entering the market successfully.
Through this article, we hope that you've gained enough insight and inspiration from our tips and advice in order to successfully answer the question of how to make stickers to sell on Etsy.