In recent years, selling stickers online has become a workable business idea. Stickers are inexpensive and a great way to show off your individuality, making them a hot commodity on internet markets right now.
Sticker shops, in comparison to other forms of enterprises, are an affordable and simple entry point into entrepreneurship. This article will explain how you should create stickers, how to sell stickers online, and how to promote them. Let's explore!
Identify your niche
The secret to financial success is to provide something that customers can't get from any other source. So, identifying a niche is essential when developing such goods as best-selling stickers.
Reasons you should identify a niche for sticker designs
A product finds its niche when it has broad appeal among its targeted customers. It's important to tailor one's approach based on the individual, whether they're a religious die-hard fitness devotee, an animal lover, or a vegetarian van life enthusiast.
Simply said, if you can target a smaller audience, you increase the likelihood that they will make a purchase for your shop. Finding your niche allows you to differentiate yourself from competitors, reduce your marketing expenses, and increase your profits when you sell stickers online.
Tips on how to identify a niche
The more specific you are in establishing your niche, the easier it will be to attract your target clients. Some suggestions for you to find your specialty when you sell stickers online:
First, figure out what you're really enthusiastic about. Create a list of everything that excites you. You may use this information to make sticker designs that really reflect who you are and your hobbies.
Then, if you want to start to sell stickers online, you can look into relevant phrases on Google Trends, Instagram, or Facebook, such as "Famous stickers styles", " best seller sticker", "best selling stickers", ect.
Pay attention to a particular group and then target them with your sticker shop. Try to figure out what kind of sticker designs they could like. Consider these questions: To which group would you first offer your stickers? Will you sell them to the public, and if so, to whom? Will you be manufacturing stickers for the commercial market or just for small companies?
Fill the sticker market gaps with your unique, eye-catching items. And believe us, they will sell like hot cakes!
Finally, put your ideas to the test. As soon as you think you've found a marketable niche, it's time to put your ideas to the test with some prototypes. You can accomplish this by running a poll or posting your designs online.
Create unique designs
The unique design of your product is what makes it stand out from the competition when you get to sell stickers online. You may look at other sticker stores for ideas, but you shouldn't imitate anybody else's designs. One way to make your company more noticeable is to provide something really distinctive. When you sell items that customers can't get anywhere else, your business will definitely succeed.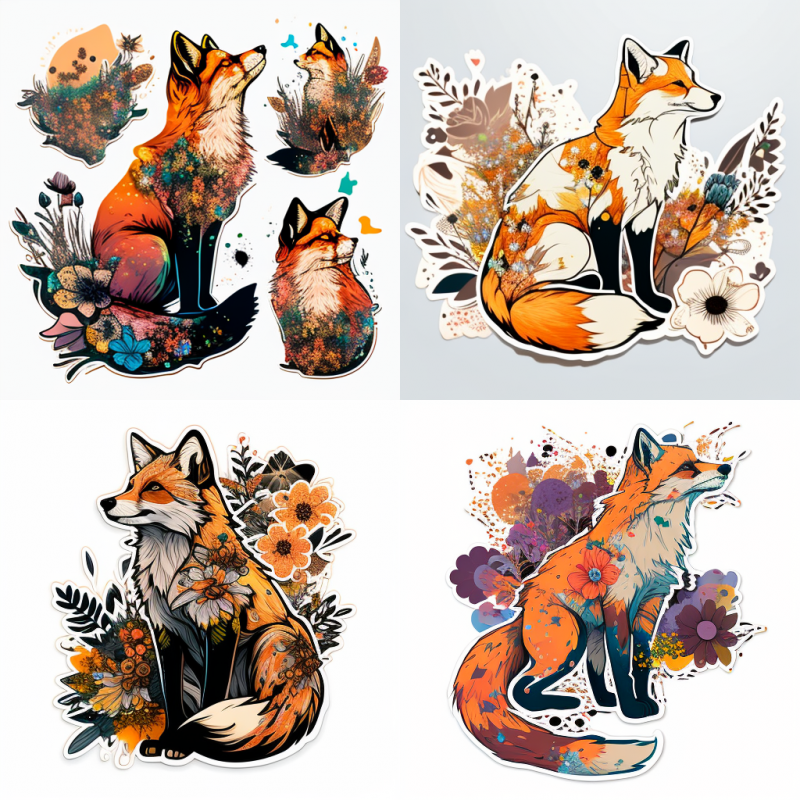 So, let your imagination go wild and come up with some truly unique sticker layouts that others will love. Don't stress if your drawings aren't excellent; there are lots of designing softwares to use to express yourself creatively.
Try Adobe Illustrator or Photoshop to make your designs when you sell stickers online. Or, you may use one of the many free online alternatives, such as Canva, PicMonkey, or Inkscape.
The Midjourney Bot, an artificial intelligence software, is another option. Explore our post "Generate Free Sticker Designs with Midjourney Bot in 1 minute" to learn more about this.
These sticker creator apps generate sticker ideas to draw, allow you to make your own labels and decals from scratch or use one of many available templates. All the tools necessary for operating a successful business are included in these programs. They facilitate the development, expansion, and management of your company to sell stickers online
Decide on printing — home or online?
If you do not purchase viral stickers that have already been produced, you will have to print and cut them out to sell stickers online. You may do this in 2 different ways.
Get some stickers printed and cut at home.
Use a third-party printer (print online).
Home printing
You can print and prepare your stickers on your own to sell stickers online if you have a printer and sticker paper at home, the workplace, or the store.
Pros:
It's more cost effective for smaller orders, and you can have your stickers straight immediately.
Stickers may be produced on demand (print on demand stickers), which solves the problems of surplus and waste.
Cons:
Having difficulty in choosing suitable and effective materials and printers. You can make this process easier by reading our articles "Inkjet vs Laser Printer" for choosing the most suitable printer, or to choose the best sticker papers you can read "Best types of printable vinyl"
Getting the print quality exactly perfect and the cutting machine adjusted might take a lot of trial and error. That requires a significant investment of time and resources before you can offer the stickers for sale.
Online printing
When printing large amounts of high-quality stickers to sell stickers online, you discover that doing it online is the most convenient and effective alternative. Although this could raise sticker prices to account for these extra services, you'll receive excellent quality and flexibility, plus you may save money on bulk purchases.
If you're looking for a reliable online sticker printing service, you can rely on us. We accept printing with the number of stickers from 5 pieces, ensure their quality, and save your time by sending stickers directly to your clients.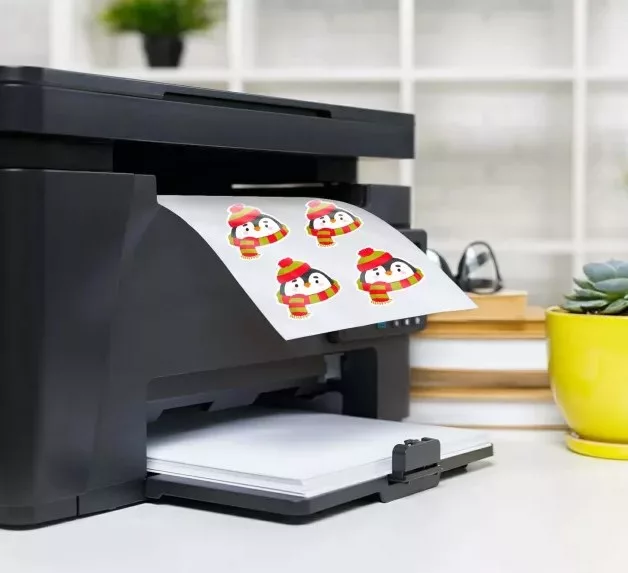 Price your stickers
One of the most crucial stages to sell stickers online is setting the proper pricing for your stickers. Putting a fair price on your stickers might be challenging.
When you sell stickers online, you will find some factors affecting the final cost.
Sticker dimensions. Bigger products often cost more.
Types of stickers. Stickers with special finishes or made from high quality materials such as holographic stickers, waterproof vinyl stickers are often higher compared to ordinary .
Whether or not it's a complex design. Sticker prices increase according to the complexity of the design.
Where to sell stickers. There are extra costs to consider when selling on marketplaces like Amazon, Etsy, ect.
The price of printing and packaging. If you choose to print by a third party, there will be additional costs to pay for the printer.
How long have you been working as a creator, and how well-known is your shop?
One tip for pricing your stickers is examining the market to get a feel for price choices is an excellent place to start. Look around at other sticker stores and compare sticker pricing and sizes to your own to get a feel for what the market will bear.
Promote your stickers
You can't simply set up a website or online store to sell stickers online and hope that people would buy stickers from you. Marketing sticker is crucial to the success of your online company.
The online promotion of your small company and the acquisition of new clients for your sticker designs will benefit greatly from your use of digital marketing.
The influence of social networks. Start a business account for your business or brand. Instagram and TikTok are quite popular among younger users right now, while Facebook remains a reliable go-to for a larger marketplace for all ages.
Maintain a regular posting schedule, but avoid making just promotional posts. Commercials have reached saturation point. Posts that are both entertaining and informative may be a great way for you to promote your stickers.
SEO and content optimization is the means to the goal of generating organic traffic. Use Google Trends to find the most popular search terms linked to your sticker and audience, then use those terms across all of your written material, from the online store's sticker descriptions to the alt texts, hashtags, and blog posts.
Above are tried and true methods of advertising on every marketplace and platform for your reference when you sell stickers online. Have a look at these helpful tools to build a successful advertising campaign and raise brand awareness.
Conclusion
We hope that by the time you reach the end of this tutorial on how to sell stickers online, you will have enough information, motivation, and assurance to get going. Anyone can earn money selling stickers online; all it takes is some time, effort, and organization. Without further ado, let's get to work creating your very own online sticker shop!