Planner stickers are a method for personalizing and enhancing the aesthetic value of planners. They come in a wide variety and may be used to keep tabs on everything from routines and expenses to big life events and long-term objectives.
However, the question is whether you have any idea of how to use planner stickers better. They may be a great asset if you know how to utilize them to your advantage, whether that's to spice up your plan visually, develop your own efficient processes, or make your plan more fun to work on. Let us show you by outlining the five steps on how to use planner stickers to enhance your efficiency.
1. Benefits of Using Planner Stickers
Planner stickers are products that help you organize your day, week, and month in a manner that increases the likelihood that you will finish and keep everything in mind. Let's examine why it's essential for everyone, including you, to start adding stickers to your planner.
Adding visual interest and creativity to your planner
Stickers are a great way to make your planning experience more fun, enjoyable, and unique. If you simply write your notes straight into your planner with a pen, you run a higher chance of overlooking important information since everything will blend together.
Stickers may be used for more than simply communicating sticker organizer ideas; they can be the sticker inspo, calendar stickers or come with characters, quotations, hearts, happy faces, flowers, etc.
Depending on your reference on how to use planner stickers, they will serve as a reminder sticker, a decorative, a divider, inspirational stickers for planner, or many other purposes.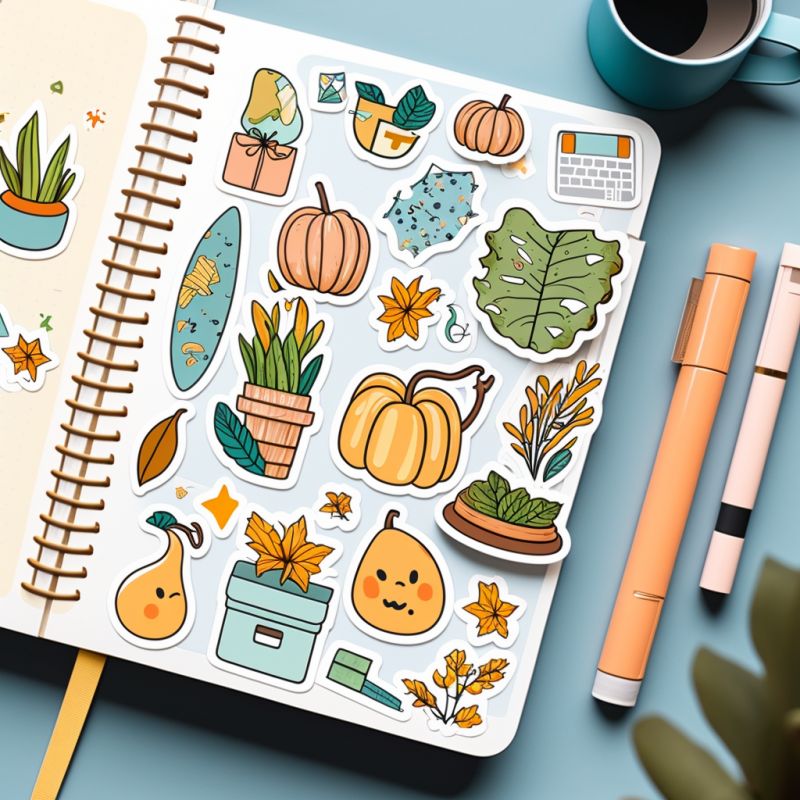 Personalized a system for you only
While using a notebook for planning, everyone has their own preferred method of how to use planner stickers, such as organizing the cells and fields. Finding a printed planner with suitable layouts is really challenging. It's also a significant time investment to create the layouts in a blank notebook.
The greatest option to have your own ways of how to use planner stickers here is to make use of planner stickers. You may simply purchase them in large quantities or in pre-cut sheets. Then, pick out some appropriate planner stickers to place anywhere you want in the book to get the required design. Know how to use planner stickers not only satisfies your personal requirements but also helps save both time and money.
This inspiration kept you going ahead and using your planner consistently.
There are numerous ideas on how to use planner stickers to create your personal system. You may assign each of your responsibilities to a certain color, set timers to remind you of crucial meetings, make notes to remind you of upcoming events and the list goes on and on. Everything relies on the choices you make.
Making planning more fun and enjoyable
The addition of stickers to a planner may increase the pleasure of planning in a number of ways:
Personalization: Stickers help add a lot of personal style when decorating planners, making them truly unique items.
Organization: With planner stickers, you may create a color-coded system in which you have various colors for different chores, such as food planning, job tasks, school-related tasks, etc. This allows for greater clarity at a glance when things must be completed.
Motivation: When tasks are finished or objectives are reached, using stickers to mark the occasion may create a feeling of pride and encourage more effort.
Creativity: Stickers are a great way to encourage imagination and fresh ideas. From colorful patterns, calendars, and cute planner stickers to custom happy planner stickers, they can represent your thoughts and concepts throughout the planning process.
2. Choosing the Right Stickers for Your Planner
The tips below will help identify the different ways on how to use planner stickers properly.
Exploring different sticker types and styles
Stickers for your planner are plentiful, so knowing which ones to acquire and how to use planner stickers may be a challenge. It's important to pick up the perfect ones for your needs. Functional stickers, decorative stickers, and icon stickers are three most common types of planner stickers.
Firstly, functional stickers are exactly what their name implies: they perform functions. They are useful for organizing one's time, creating reminders, and keeping track of chores. The uses for stickers are endless, and these are just a few examples. You may use them to organize your day, week, and month in style with their beautiful patterns and vibrant hues.
Secondly, you might use stickers to decorate your planner. They can make even the most boring planner seem like something out of a daydream. There are no restrictions, so feel free to use whatever speaks to you most (flowers, motivational planner stickers, quotes, images, calendar stickers, etc.).
Finally, if you'd prefer a more unified planner aesthetic, using icon stickers may be a lot of fun. You can use unifying theme (say, "magical" or "celestial") for all of your stickers. You may also match a topic with a specific activity (like student planner stickers for school tasks or sports planner stickers for exercise schedules).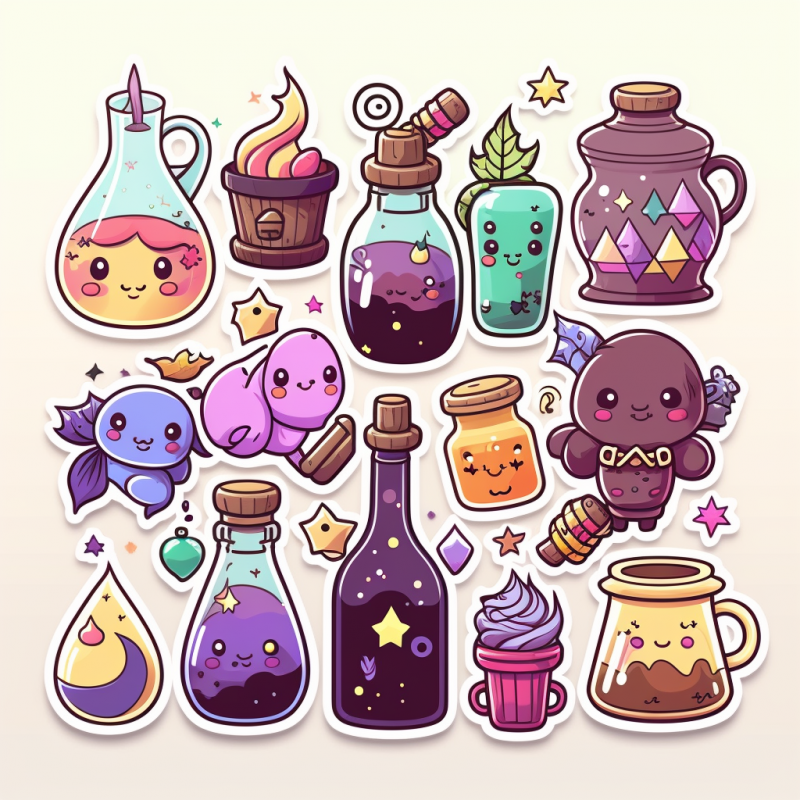 Considerations for sticker size and layout
When putting stickers, it's important to get stickers that are the right size for your planner. We have two helpful tips for determining how to use planner stickers with your needed size:
Selecting a consistent size: When decorating your planner, it's ideal to use stickers of the same size for a smooth and cohesive appearance.
Size variation: Using stickers of the same size might make your planner appear more organized, but adding stickers of varying sizes can make your planner more visually attractive.
You may want to read more on Sticker size guide: Best sticker size for popular uses.
In addition, some of the stickers that are being showcased today are add-ons or accessories for certain planners, and these stickers and plans work quite well together.
Put some thought into the arrangement of your planner before you start sticking stickers in there to keep everything looking tidy and balanced. You can use a grid or ruler to perfectly position your stickers and make a neat layout.
Matching stickers to your planner theme or color scheme
Making use of a set color scheme is a great way to give your planner a professional look and feel. Stickers of the same color might help you maintain a consistent theme throughout the planner.
You can also feature each page in your planner with a different theme and color palette, complete with pictures, symbols, notes, and washi, making it simple to adorn your planner layout without the headache of mixing and matching.
3. Planning with Stickers
After you choose the most suitable planner stickers for your requirements. It's time for you to make an informed decision on how to use planner stickers effectively. Here are our suggestions.
Using stickers to mark important dates and events
Stickers are a great way to commemorate special occasions like birthdays, engagements, anniversaries, baby showers, weddings, seminars, and more.
Taking the form of a plain, colored strip that may be written on is an ideal solution for how to use planner stickers. The name of the event may go in the bigger space, and the date and time can be written in the smaller box on the sticker's left side.
You also have the option of using checkboxes or dot stickers to place checkboxes wherever you see it suitable and helpful for yourself.
Organizing tasks and to-do lists with stickers
You may use stickers as a tool to help you manage your time and your life in a manner that makes it simple for you to recognize what responsibilities need to be fulfilled. With stickers, you can keep track of your to-dos in a way that makes it less likely that you'll forget about them.
For example, stickers may be used to prioritize or classify work. They may be used to signify either routine or urgent work, or both. Alternatives, you can track your progress on tasks with stickers. Use a sticker to indicate the beginning of a job and another to indicate its completion.
Stickers have more to offer than simply a pretty addition. They improve not only your aesthetics but also your chances of not forgetting anything.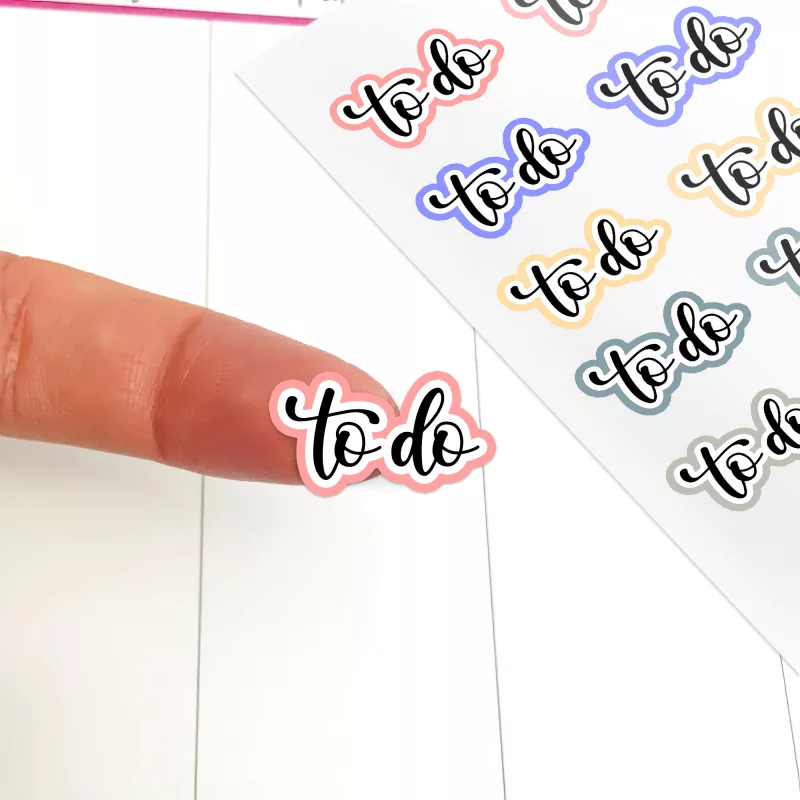 Tracking goals and habits with stickers
Are you attempting to create and maintain a routine? The tracker stickers allow you to create a schedule that works for you. You are free to choose your own ways of how to use planner stickers, but using them to highlight the prioritized routines you most want to maintain is excellent.
Many people use habit trackers to keep tabs on the activities they need to do more often (or things you are trying to limit). Take the example of setting a daily goal of taking 8 water glasses; by using a habit or water intake tracker, you may learn to value progress above perfection every day.
4. Customizing Your Planner with Stickers
To help you have better results with your planner stickers, we write this part to give you some advice on how to use planner stickers to customize your organizer. Let's explore!
Creating personalized dividers and sections with stickers
By customizing your planner with stickers, you can easily add structure and order to your day by creating personalized dividers and sections that are tailored for your particular purpose. Here are some ideas of how to use planner stickers to create sections:
These stickers can be used to divide sections according to topics like coursework, business meetings, vacation planning etc.
They can serve as great little reminders or just as visual cues to differentiate among activities.
You can use stickers to divide your long-term goals/tasks into small pieces, such as daily goals/tasks by using day of the week stickers for planners.
By adding personalized dividers and sections with sticker designs, you can save time, have clearer orientation and make sure that all of your plans are organized in an efficient manner.
Designing unique covers and layouts with stickers
Another idea of how to use planner stickers to make a cover is to use photo stickers to demonstrate the enjoyable activities that your family participated in on that particular day.
You can also use stickers for making creative layouts for your planner. They may turn your boring planner into a movie-themed one or an interesting magazine.
Stickers are not restricted to the weekly and monthly spreads. Make your planner something you'll really look forward to seeing every day.
Incorporating stickers into note-taking and journaling
You may make your own tracks using stickers and the additional note pages in your planner. Sticking a sticker on anything is preferable to writing it down if you want to draw attention to it. Stickers of different shapes and sizes, including flags, emblems, and banners, are available.
Even if you can't design and don't want to spend a lot of time on your bullet journal layouts, you may still benefit greatly from using stickers. Stickers come in different shapes and sizes, so you may customize your bullet journal, planner, or travel diary any way you choose. "How to use planner stickers" all depends on your personal interests.
5. Sticker Organization and Storage
As your sticker collection grows, it will be important to find a convenient way to keep them all together. Included below are a few of our favorite methods for arranging and storing stickers.
Tips for storing and organizing your sticker collection
There are many different ways to store and arrange stickers, and the one you choose to use will depend on factors such as your personality, the size of your living space, and the manner you choose to utilize your planner.
When it comes to storage methods, some of the options available to you are sticker-storing books/ albums, boxes, accordion file folders, index card holders, or Ziploc bags.
After finding suitable storage space, the next step is to sort your stickers by kind, theme, event, and use.
The last step is to decide where to keep your collection, whether in your drawers, bookshelf, or desk.
Ways to keep your stickers easily accessible for planning
After you've settled on how to use planner stickers with a storage strategy that seems comfortable to you, you can begin organizing your stickers so that they're always within easy reach when it comes time to make plans. To get started, take stock of your sticker collection and sort them into sets according to kind, topic, holiday, and/or function.
Secondly, consider this: while using your planner, how do you usually go about finding the stickers you need? If you find yourself reaching for the reminder and decorative stickers more frequently than seasonal or holiday-specific ones, put them up front where they'll be easy to find.
Conclusion
Stickers may assist you in organizing your life, regardless of whether you are a harried parent who has to keep track of the family's schedule, a student who is gaining an understanding of time management, or someone who just wants to enhance their productivity.
Our article's goal is to assist readers in determining the best strategy on how to use planner stickers. Hopefully, it has brought you informative content.
For turnning your sticker designs into real product, or shopping for some of the trendiest stickers for your planner, don't hesitate to go for customany.com. We are proud with the high quality stickers, easy online ordering process and fast shipping time.