Stickers are now more and more popular. They appear everywhere, from your laptop, phone case, and tumbler to product packaging and advertising. Not only do stickers vary in size and color, but they also differ in the substance that they are composed of.
So, what are stickers made out of? Does it make a difference what a sticker is made of? In a word, yes.
Here we'll discuss the most common kinds of sticker materials, how they're used, and the benefits and drawbacks of each. Let's find out!
Typical components of a sticker
Stickers have several layers, each of which contributes to the sticker's functionality. In this section, we'll break down each part, describe its function, and discuss its significance. After that, you can obviously understand you need to select the material for which sticker part.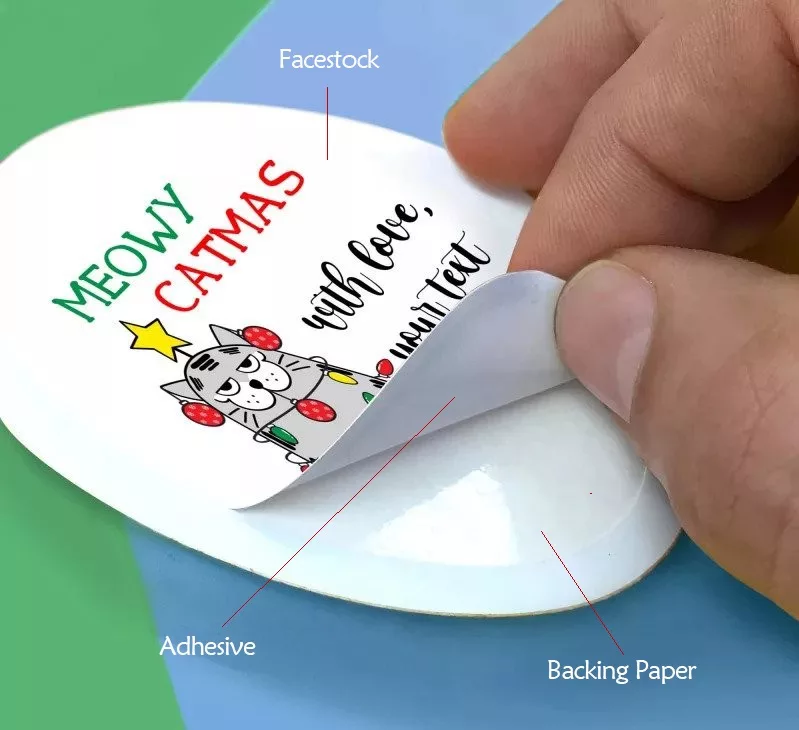 1. Facestock
The facestock is the outermost layer of a sticker. It is the primary component and shows the printed artwork or design of the sticker.
2. Adhesive
Stickers may be applied to various surfaces thanks to the adhesive layer, and it is put on the back of the facestock. Depending on how you want to use the sticker, you may choose between a permanent or removable adhesive.
3. Backing Paper
It's a barrier that prevents damage to the sticker's sticky surface. It is often constructed from a silicone-coated paper or film. During application, you peel back the backing paper to reveal the adhesive and adhere the sticker to your chosen surface.
4. Optional Finishes or Coatings
Finishes or coatings are extras that make the stickers look or work better. For example, they may be glossy vs matte stickers, or UV coatings for durability and protection from UV rays, and laminates for greater defense against wear, tear, and fading.
Why we need to be careful in choosing sticker materials
As was just discussed, the facestock is the part of the sticker that the design is displayed on and can be felt by the user. Choosing the sticker materials implies also selecting materials for the facestock.
If you want your unique stickers and labels to stand out from the crowd, it's essential to choose the right materials. In addition to helping your designs stand out, using suitable materials may bring advantages like greater color saturation and depth of detail.
Aside from that, the sticker materials determine not only what you can accomplish with your stickers but also how long they are likely to last and even how environmentally conscious you are.
For this reason, selecting the best material for your stickers requires careful consideration of a number of aspects. Here are your recommendations:
Things you need to consider when choosing sticker materials
There are benefits and drawbacks to using different kinds of sticker materials. Whether you're making a decision for professional or personal usage, there are a few things to bear in mind.
1. Intended use
The first thing to do is decide what purpose the stickers will serve. For instance, will you need a printable sticker paper or will you use indoor or outdoor stickers? Stickers made of more durable materials like vinyl and polyester are more suited for outdoor usage, whereas paper stickers are more often used inside.
2. Durability and Longevity
It's also crucial to think about how long the sticker material will last. Stickers may range from short-term decorations to long-term appliances. Consider how long you'd prefer the sticker to last and pick a material accordingly. Keep in mind that vinyl stickers are notoriously long-lasting.
3. Surface Compatibility
Identifying suitable sticker materials for different surfaces. You should find out how well it works with different surface textures and shapes. For instance, the best vinyl sticker paper is more adaptable than other materials like BOPP or epoxy stickers. So, it's an excellent option if you want to adhere it to a circular or curved surface.
4. Printing Compatibility
It's important to understand that not all sticker materials can be printed using the same technologies. Inkjet, laser, and thermal printing are just a few examples of printing technologies, and you should know that various materials work well with each.
Compatibility is important in obtaining the required print quality and visual appeal.
5. Finish and Appearance
Sticker materials vary in terms of finish and texture, such as glossy or matte finish or transparency. So, you must carefully consider how they differ visually. Also, this gives you the opportunity to choose a material that meets your aesthetic preferences or branding needs.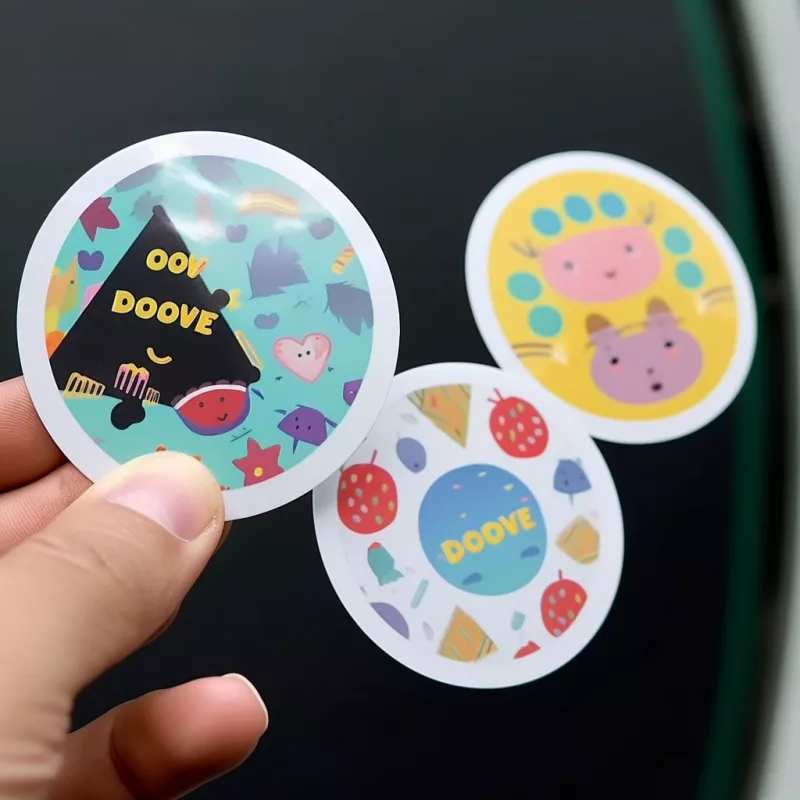 6. Cost Considerations
Last but not least, think about how much the sticker material will cost you. There is a wide range of prices for materials. While standard white sticker materials are inexpensive, stickers with special effects like metallic or translucent ink can cost more. Pick a material that serves your purposes at a price you can afford.
5 best sticker materials
We choose the following five kinds of sticker materials after carefully considering the aforementioned buying guide. Let's go deeper to find out more specifics about these materials to make stickers:
1. Paper
Stickers made from paper materials are inexpensive and may be personalized by choosing from numerous finishes, such as matte, glossy, transparent or uncoated. They are ideal for indoor usage and are often employed as labels or product labels on a wide variety of substrates including wood, paper, metal, glass, and plastic.
Their pros and cons:
Pros
Reasonable price.
Compostable (paper dissolves rapidly and fully).
Paper stickers are more convenient to produce since they may be made without complicated production.
Cons
Poor durability: even coated paper stickers tend to fade and become illegible in the elements.
Don't do well in dirty environments since they can't be cleaned.
Tear easy
2. Vinyl
Vinyl sticker paper, which is the most popular material, is produced from a thin coating of PVC. So it is waterproof and more durable than other types of stickers. Vinyl stickers are very versatile, and you can stick them to almost any surface.
Vinyl stickers are often used as vehicle decals, laptop decorations, professional advertisements, and product labeling.
Their pros and cons:
Pros
Can withstand water, sunshine, and average weather conditions.
Durable, are more difficult to tear compared to paper, and may be cleaned together with the surface that they are attached to.
Offer superior adherence to other types of stickers because of their flexibility and ability to attach to curved surfaces.
Are readily customizable and may be produced in a wide range of colors, sizes, and forms.
Cons
Constructed from the polymer, vinyl stickers are not an eco-friendly sticker type.
Cost a little more than comparable alternatives.
3. Polyester/Polypropylene
In terms of sticker durability, polyester is the best sticker paper choice. They are somewhat thicker than vinyl stickers and can withstand the sun, rain, snow, dirt, strong chemicals, and severe temperatures without fading or peeling.
For this reason, polyester stickers are often used for applications that need long-term durability, such as product labels.
Their pros and cons:
Pros
Very high resistance to the effects of all environmental factors.
Superior resilience to tearing.
Cons
The print quality is usually not as good as that of vinyl stickers.
Polyester is usually more costly than vinyl.
Polyester is not environmentally friendly because it cannot be recycled.
4. Foil
Foil is a metal material that gives your stickers a reflected or glossy appearance. Gold foil, silver foil, and holographic foil are some of the options. A flat surface is ideal for applying foil stickers.
Foil stickers are often used for both business purposes (making logos, branding, advertising,…) and personal purposes (sticker printing for weddings, parties,…). They aren't as durable as other options; therefore, they're best used inside.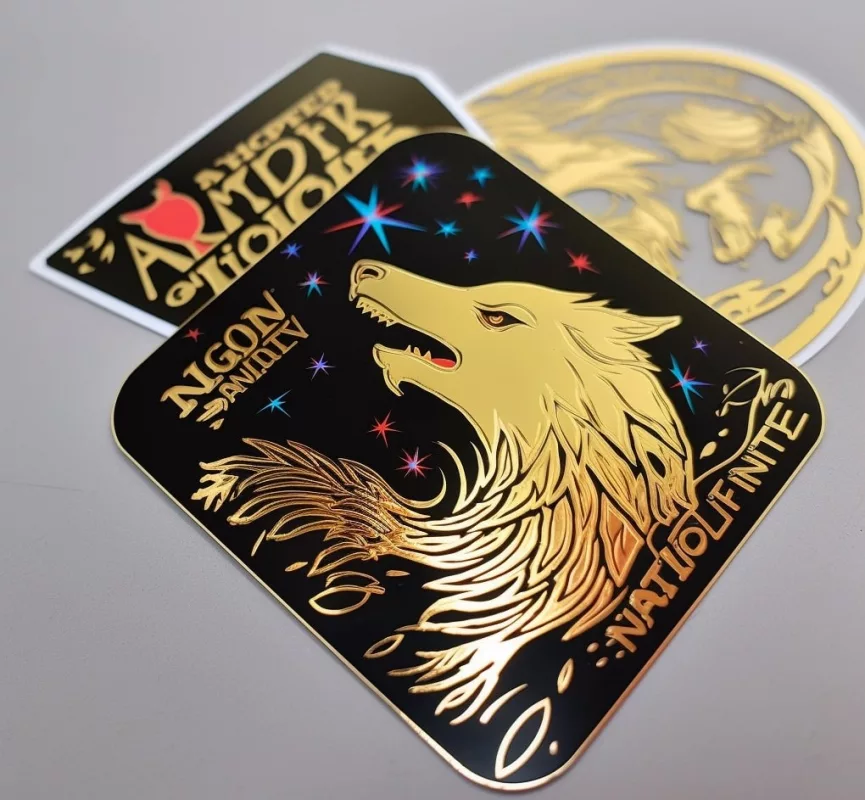 Their pros and cons:
Pros
Add a distinctive, eye-catching touch to your designs.
Produce a premium aesthetic for your items.
Cons
Limited durability.
Not suitable for outdoor use.
5. Holographic
Holographic stickers may be composed of paper, vinyl, or polyester, but what distinguishes them from other stickers is the iridescent reflection.
Stickers with holographic light-catching effects stand out from the crowd and have unique applications.
Using holographic stickers for product packaging is a great method to add a high-end appearance. You may also use them to spice up your belongings (cell phones, laptops, etc.).
Their pros and cons are:
Pros
Create a distinct aesthetic.
Are more difficult to imitate.
Cons
Quite expensive
Need more complex manufacturing methods.
Tips for choosing the best material for your needs
Know Your Purpose
To get started, think about the purpose of the stickers and whether or not you have any specific requirements for print quality, durability, weather resistance, etc.
Seek for Customer Review and Expert Advice
Reading reviews written by other consumers who have invested in the same sticker materials will help you decide on the best material to use. You should also seek advice from professionals in the printing and design industries for the right decision.
If you need any more guidance, don't hesitate to contact our experts. Everyone at CustomAny is highly qualified and has extensive experience in the sticker business. You can reach us at [email protected] or any of our social media platforms (Facebook, Instagram, Twitter) we are always pleased to answer any issues you may have.
Test Various Materials
To do this, you will find it helpful to place an order for a small amount of customized samples. You can avoid buying improper sticker materials for your designs by first testing a sample and making sure it serves your intended purpose.
Conclusion
Finding the finest sticker materials involves a lot of considerations. The procedure may seem daunting at first. But don't worry; all you need to do is follow the instructions in this tutorial and use your imagination, and you'll be fine.
We hope that our breakdown of the finest sticker materials helps you get started in the right direction, whether you're producing stickers to sell or for a personal purpose.