With the rapid increase of online shopping, e-commerce shipping services are also growing. Getting the proper packaging will determine the shipping expenses and the security of the items' arrival at the customer's door. With this in mind, we highly recommend you get a set of custom poly mailers whether you run a small company or often ship items to friends and family. They are widely used as a cost-effective alternative to other packaging types. Also, they provide enough protection for fragile items. This article will provide information about poly mailers by answering questions like what they are, why and when to use them, and where to get them.
What Is a Poly Mailer?
Poly mailers are lightweight yet robust plastic bags used for shipping. They eliminate the need for tape thanks to their foldover lip that seals the bag. It also has a mailing label that may be placed immediately on the bag.
What are poly mailers made of?
The most widely-used material for making poly mailing bags is polyethylene – a light, synthetic resin. This poly material is resistant to water, can withstand tearing, and is surprisingly flexible.
Poly mailers types
There are mainly four distinct varieties of poly envelopes:
Standard white poly mailers. These bubble-free mailers are the standard and lowest costs. If you desire to reduce expenses on transport, they are your most excellent option. They work best for products that don't need extra protection (like those that come in solid packaging) or that aren't fragile (like clothing).
Bubble padded. Poly bubble mailers get their name since they often come with an inside layer of bubble wrap to protect shipping contents. They are more pricey but great if you're shipping valuable products that need special protection from bumps and scratches in transit.
Expansion poly mailers. The cushioned bottom of these sturdy mailers makes it possible to send objects of greater thickness. Made of durable polyethylene, they are the best choice for preventing moisture damage to packages in the shipment. In addition to being tear- and water-proof, they are also puncture-resistant.
Eco-friendly poly mailers. These eco-mailers are created for environmental awareness and come in biodegradable and recyclable varieties. For this reason, they are perfect for environmentally conscious companies who want to reduce waste and increase their usage of renewable energy.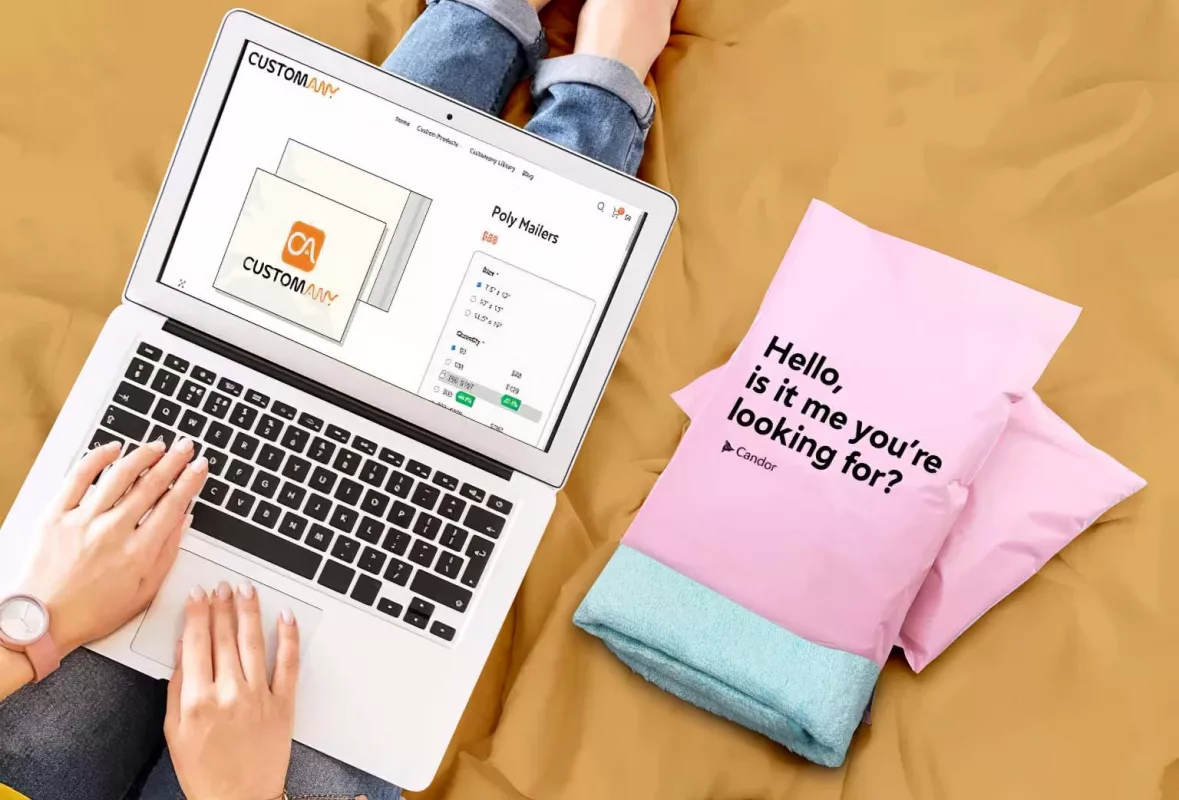 Poly Mailers vs. Standard Packaging: Why Should You Use Poly Mailers?
Smaller and lighter
For warehouse convenience, polypropylene poly bags are preferable. Poly bags range in size from 7.5″ x 12″ (weighing 0.03 ounces), 10″ x 13″ (weighing 0.25 ounces), to 14.25″ x 19″ (weighing 0.4 ounces). Because of their lightweight and compact dimensions, they take up less room in the delivery company's trucks. Thus, you can save money on shipping costs. In addition, the custom poly mailers' size helps the shipper occasionally deliver goods via the mail slot. Because of this, the likelihood of package theft is lower for poly packages than for packages left on a porch.
Waterproof, tearproof
As was previously mentioned, poly containers are constructed entirely out of polyethylene. They are a durable option because of their resistance to water, tears, and punctures. High-performance poly envelopes provide superior protection for your products over other packaging. For example, boxes are made of cardboard. Therefore, it will not be waterproof and will likely be accidentally punctured by sharp objects during transportation.
Significantly cheaper shipping costs
Poly mailers are sturdy and cheap, making them ideal for shipping. They have a lower per-shipment cost than other types of packing since they weigh less and take up less space.
Shipping companies commonly utilize a pricing method called "dimensional weight". In this method, the final shipping cost is measured by the greater weight when compared between the package's actual weight and its dimensional weight. As a result, transport companies may charge extra for delivering a lightweight but bulky shipment. Shipping companies charge more for packages that are too heavy, so it's in the best interest of any company to make their deliveries as light as possible.
Because of their compact design, mailers made of poly are an excellent way to cut down on the dimensional weight of your shipments and, in turn, your shipping expenses.
Custom branding options
Your shipments may easily be recognized when you pack them in distinctive, brand-specific packaging. If you want unique poly mailers or cool poly mailers, you may customize them with poly mailer design ideas that incorporate your brand's colors, logo, and images. Otherwise, you can hire a professional designer for designed poly mailers and send them to the manufacturers. This way, you will have cool poly mailers for your business.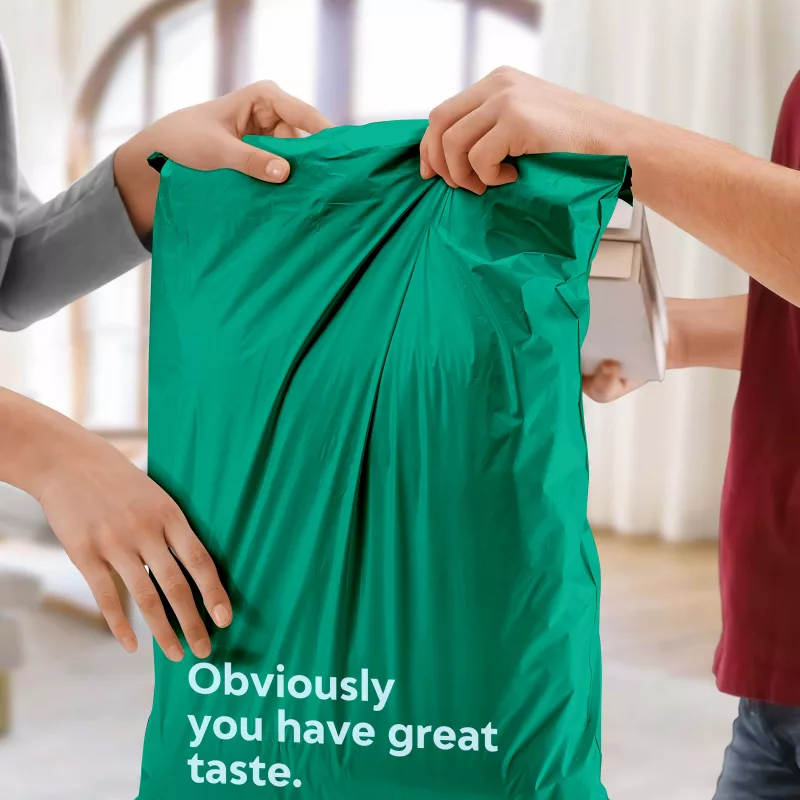 When To Use Custom Poly Mailers?
Light, non-breakable objects are ideal for shipping in poly bags. The following are some common items that you can send in poly containers:
Apparel
Cloth
Books, magazines, and other printed items
Jewelry
Toys
Cosmetics and health products are protected by sturdy packaging
It is not advisable to send sunglasses, easily-smashed food items like chips, or anything made of glass be sent in a poly mailing bag. These items must come in robust containers if you want to use poly bags. Otherwise, use boxes only for shipping them.
Where To Buy Custom Poly Mailers Locally?
You may find poly mailing bags for sale at any store that offers shipping products. Here are only a few of the most common sources which offer both online ordering and offline shopping for poly containers: USPS, FedEx, UPS, Walmart, Target, Amazon and Etsy.
You can also try our custom printing service at CustomAny. We provide poly bags for your packages in various size and quantity and at a reasonable price. In addition, our mailers are made of good material and allow you to customize as you like to do branding.
Shipping Poly Mailers FAQs
Are poly mailers waterproof?
Yes. In the face of severe weather, poly bags provide a viable alternative. When it's rain or extreme humidity, they may be utilized as an extra barrier to safeguard your box.
Can poly mailers be eco-friendly?
Yes, there are now many companies producing eco-friendly poly bags. This type of plastic mailing packaging is made of recycled plastic and polyethylene. These poly mailing bags will lessen the environmental damage caused by trash waste, harmful chemicals, and gasses.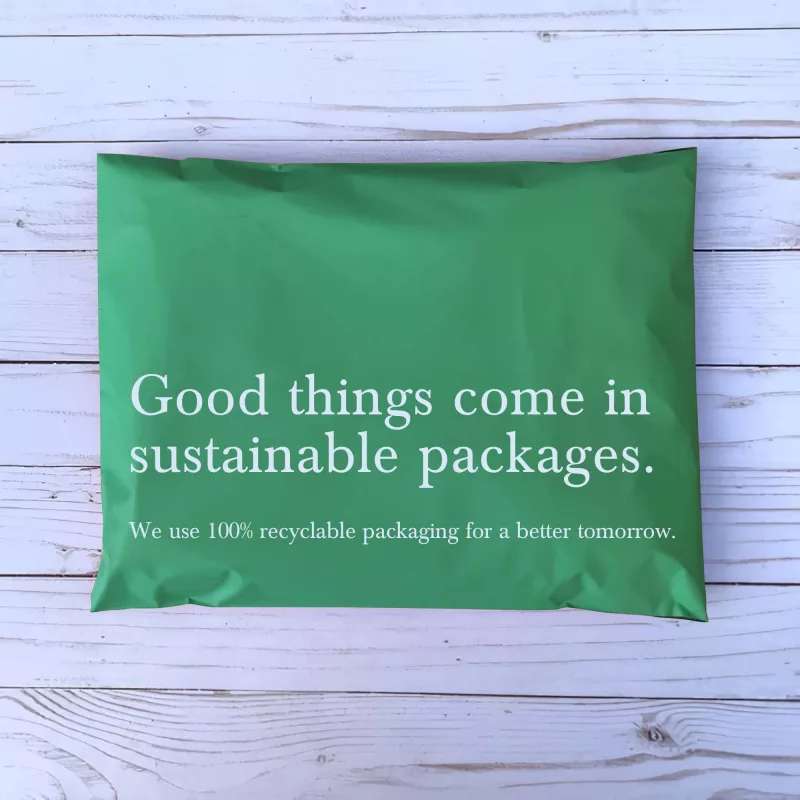 How do you seal a poly mailer?
Most post office poly bags have a handy self-adhesive strip for quick and simple closure. To seal your poly package, remove the adhesive. If you pack many products inside a poly mailing bag, you may need to supplement the packaging with additional materials like tape to keep everything in place.
Does USPS accept custom poly mailers?
The answer to this question is yes. The United States Postal Service is a frequent carrier of poly mailers. As such, it's essential to know the USPS's regulations and standards for shipping poly bags. Those things are:
For packages weighing less than 5 pounds, use a poly container with a thickness of 2 mils; for packages weighing between 5 and 10 pounds, use a poly container with a thickness of 4 mils.
If you put the package flat, the overhang shouldn't be more than 0.5″.
Any poly bag weighing less than 16 ounces is eligible for shipment by First Class Mail.
If the total weight of your poly package is less than 70 pounds, you may send it by Priority Mail.
Any poly bag under 70 pounds that contains a book, DVD, sound recording, or printed items may be sent through USPS media mail.
Closing Thoughts
Mailers made of poly are the right choice for everyone to send goods. They bring a lot of benefits to senders, especially businesses selling online. Poly bags are very suitable for businesses that want to brand (poly mailer with logo), improve customer experience, as well as reduce shipping costs.