With the number of users reaching hundreds of millions, the need to share songs, playlists and other content on Spotify is extremely large. For this reason, Spotify codes were created, making sharing a link as simple as taking a photo. This type of code can be converted into many different forms, from souvenirs to artistic tattoos, but the easiest of which is to create Spotify code stickers. So what types of stickers are suitable for adding code, how to create a Spotify code sticker and how to use that code? Find out with us right here.
What is Spotify code and where to use them
As mentioned above, a Spotify code is a sequence of symbols that are scannable by the camera on the Spotify search page. Each code represents a link to a certain content, so any user can use it to share or access to a song, a playlist or a piece of content on Spotify.
Let your creativity run wild and you'll see that the application of Spotify code is countless.
The people who use this creative way of sharing music the most are couples. They choose to print the code of their anniversary song on their couple rings, necklaces or couple keychains. One more romantic option for couples is the Spotify code of love songs printed on night light music plaque.
Individuals love Spotify code anyway. The code is printed or even embroidered onto their t-shirts, jackets and caps to become a trendy fashion item. Some tattoo lovers can't stand not having their hands tattooed with their favorite songs. In addition, you can use stickers to paste your favorite codes anywhere. A common example is the Spotify code stuck on the rear window of a car. Imagine during a boring drive, the person in the car in front of you shares a playlist of fun and vibrant music in this way. Suddenly, traffic jams aren't so bad anymore.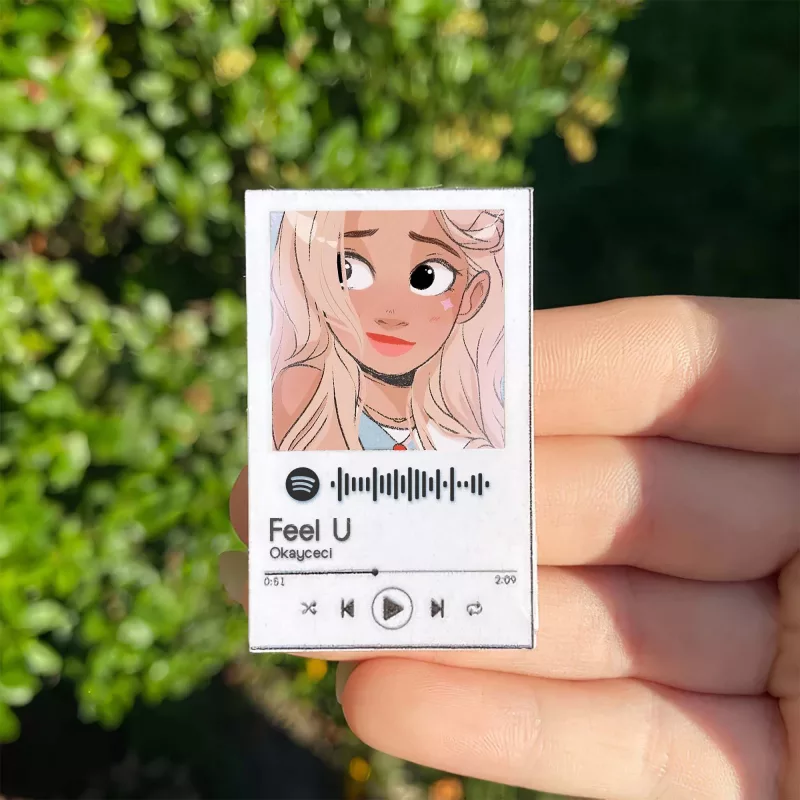 Aesthetic Spotify code stickers ideas
So it can be seen that there are many ideas for a Spotify code sticker whether you are a loner or a couple who want to share their favorite songs in a special way. If you have not yet determined which type of sticker is most suitable for your purposes, immediately refer to these 5 unique and aesthetic types of Spotify song code stickers below.
1. Die-cut stickers
Die-cut stickers are always the best choice when you haven't come up with any idea yet. No need for fancy details, just lines that cut to the shape of your code makes this sticker special. Optionally change the color of the code area to create a prominent sticker on the white border.
2. Rounded corner stickers
This is the most common type of Spotify code sticker. It has a square or rectangle background with 4 corners cut rounded to create an elegant and modern appearance. These Spotify scan code rounded corner stickers are available in either a single-color background or a textured background.
3. Transfer stickers
Transfer Spotify code cut from a white vinyl allows us to see through the background. These no brackground stickers are most suitable for applying on car windows or any other flat surface which is crystal-clear or in plain-color. Common applications are walls, doors, glass cups or boxes. Sometimes, extra details are added to this type of sticker to mimic a music player screen on the phone, making it a trendy option for the young.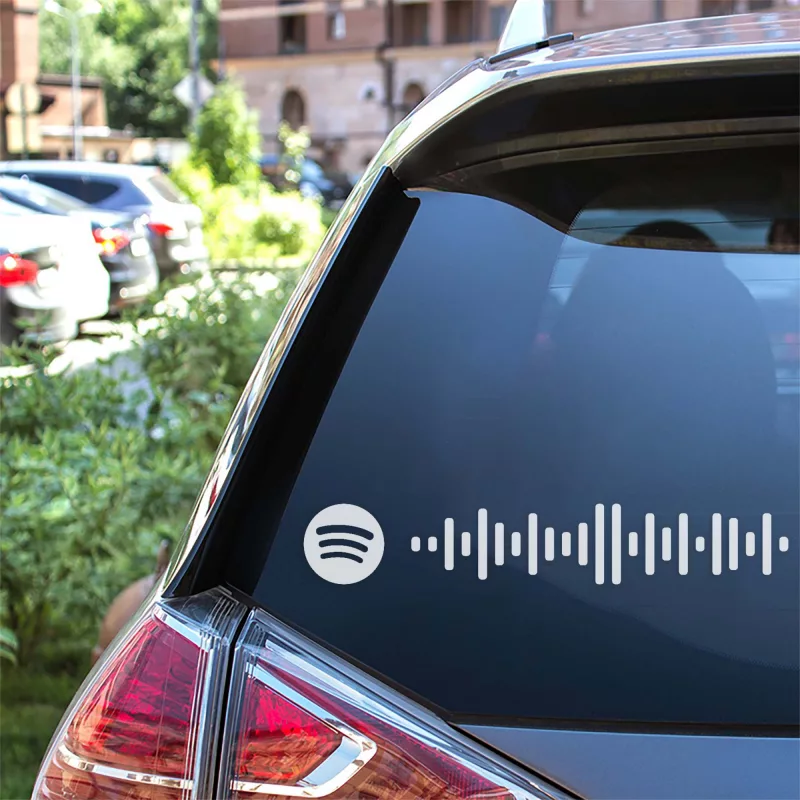 4. Square stickers with personalized photo
This classic square shape allows you to not only customize the code of your favorite song or playlist, but also insert a photo of the artist, album cover or personalize with your own photo. A photo sticker with Spotify code on it is a touching gift to your friends, relatives, and your loved one on special occasions. We guarantee that this personalized gift will be greatly appreciated by the recipients.
5. Cassette mixtape spotify code stickers
There is no way retro lovers can ignore this cassette mixtape sticker. Each Spotify code will be placed on the design of a cassette tape. These designs bring you back to the 80s – the heyday of classic cassette tape. The shape of this sticker type is perfect for decorating your laptop, hydro flask, phone case and many more.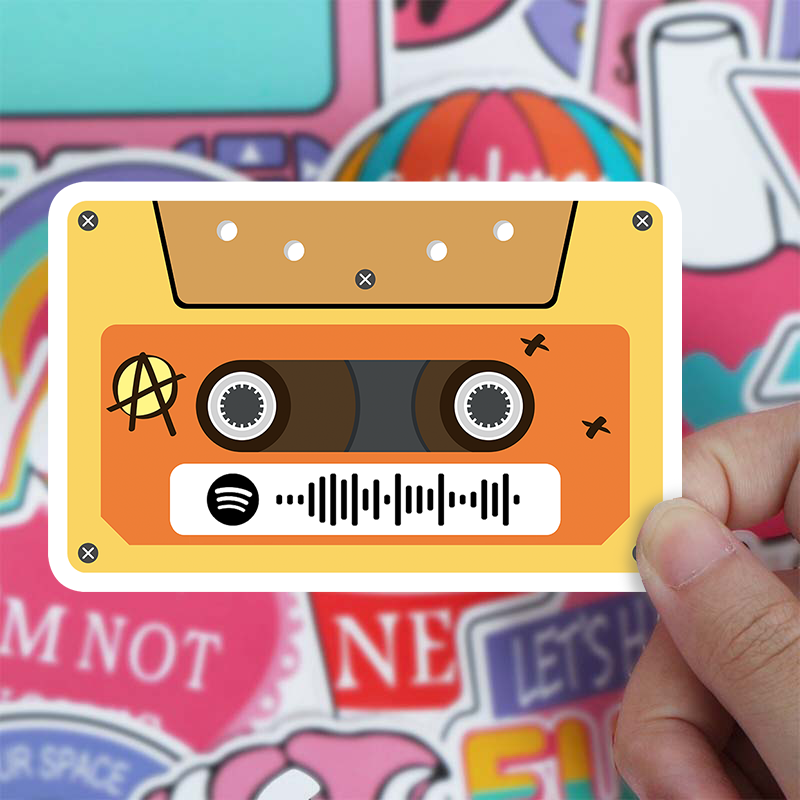 How to make a Spotify code sticker
How to make a Spotify scan code? Is it possible to make a Spotify code sticker at home? The answer is yes. You can completely design, print and use this kind of stickers on your own in a very simple way. Here we will guide you through 3 steps to create a Spotify code sticker of your own.
1. How to create a spotify code?
The first step, you need to generate the code of your favorite song or playlist. So, how to make a Spotify code? Can I get it for free? To create a code, you will need a Spotify account and a computer.
Use a computer to sign in to your Spotify account. In the search bar, search for your song title. After finding out your desired song, click the three dots (it is next to the heart icon), select "share" and copy the link.
Access

www.spotifycodes.com

, you'll see a white bar in the center of the screen. Paste the link you just copied in the previous step into this bar, click "get Spotify code" and the code of your song will be generated.
Right at the same site, you can change the code appearance by choosing background color, bar color, increase the size and select your desired format. We recommend increasing the size to 1240 pixels and selecting the PNG format for more easily designing in the next step.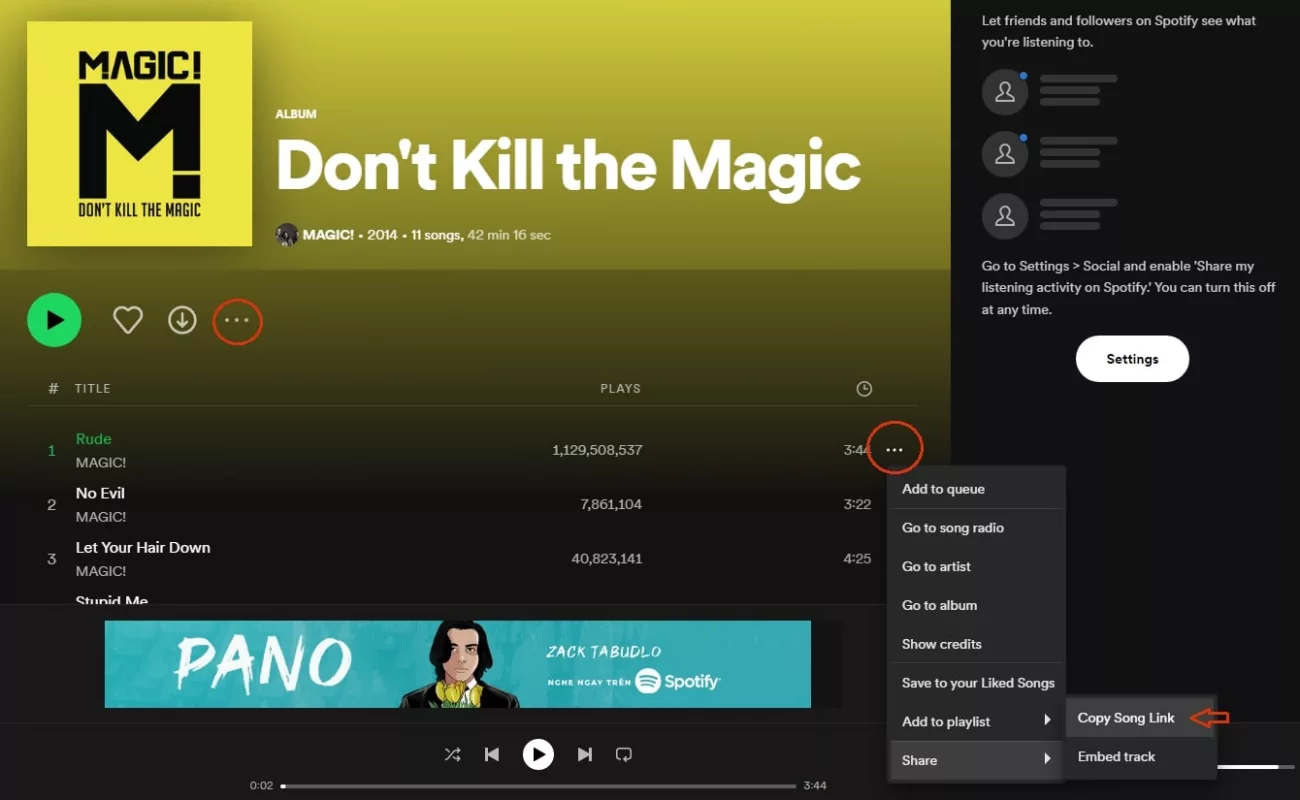 2. How to make custom Spotify code stickers
Spotify code stickers DIY are so simple to design and print out if you already had the PNG file of code from the previous step. Upload file to Photoshop, Illustrator, Canva or any other design tools. You can remove the excess parts to create die cut stickers, add more details, overlay with photos, calendar, or make a photo collage with this code. Once your design is complete, connect your computer to a printer and print it out. Now you can share your favorite Spotify content to anyone, from anywhere.
3. How to scan your spotify code sticker
The funniest part: Scanning the Spotify code sticker to access your desired song and playlist. How to scan spotify code with a phone? Here we will walk you through some simple steps. First, open the Spotify music app on your phone. Then, in the top right corner of the Search area, tap the camera icon to open the camera. Scan the code with this camera and enjoy the content it leads you to.
Memories go with music – that's the reason why these Spotify code stickers are loved by all ages. Customize your belongings with Spotify code stickers that bring back either your first love song, your wedding dance, or your favorite melody of all time. We hope that with the suggestions and instructions above, you've already come up with the most interesting ideas. Go to our website, which offers the best quality and fast printing service, to turn all the ideas you had into beautiful and memorable Spotify stickers.