Holographic sticker is a special type of sticker as it exhibits complex sparkling effects that change every time we change the light source or viewing position. Because of this effect, sticker users usually wonder how hard to create it or whether complicated holographic printing techniques are required. In this article, we will crack 3 questions with you: what is holographic printing, is holographic printing necessary for making holographic stickers and what is needed to create a beautiful holographic sticker.
What is holographic printing?
We are familiar with traditional holograms that require special lighting or special glasses to see the 3D images. Holographic printings, otherwise, do not require these conditions but present 3D images to the naked eye. In short, holographic printing is the representation of 3D effects right on a flat surface.
How does holographic printing work?
Even though 3D holographic printing can be seen on flat surfaces with naked eyes, we cannot create holographic prints on ordinary paper. The surfaces for holographic printing need to be coated with a reflective plastic or a metallic layer (commonly steel or aluminum). Then, the holographic layer is embossed into this surface, creating a detailed and complicated pixel image.
When zoomed in more, it seems that the contours of hills or valleys can be seen on the embossed surface. These irregular lines create a 3-D effect by scattering incident light and diffracting them, the reflected light splitting into the colored wavelengths that make up the incident ray. Those waves interfere with each other to create a vivid, realistic 3D parallax when you see that holographic printing.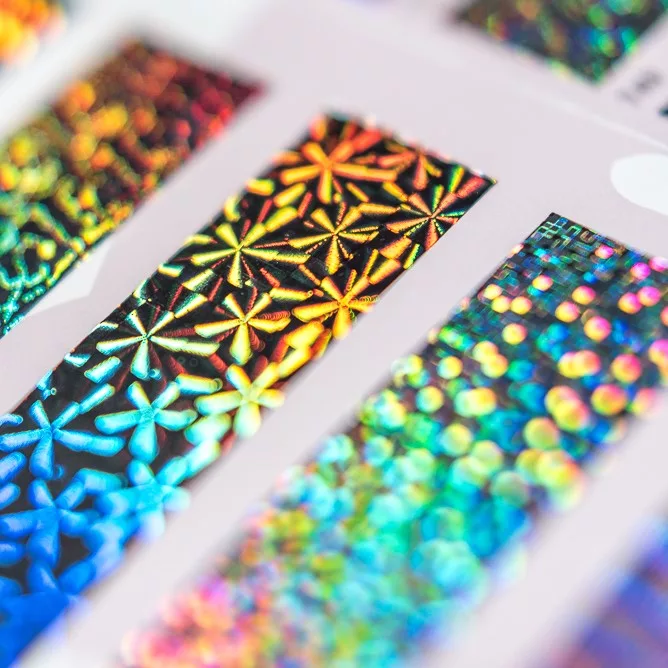 What are applications for holographic printing?
Three-dimensional prints cannot be reproduced by scanners or copiers. Furthermore, counterfeiting such a complex image proved particularly difficult and expensive. Therefore, the most common applications of holographic printing are in anti-counterfeiting, security, and identification.
The hologram can be easily found on the surface of a credit card, driver's license or passport. Besides, three-dimensional printing is applied on product packaging to prevent counterfeiting or used in tamper proof labels of products such as drugs, food, cosmetics, … In the architecture and engineering field, larger holographic prints are used to demonstrate projects instead of ordinary photographics.
How are holographic stickers made?
Just like a 3D holographic printing, a holographic sticker also represents the effect of glittering or gradients on a flat surface and this effect is completely visible to the naked eye. However, this visual effect comes entirely from the material used to print the holographic sticker, not from the printing techniques. Specifically, to create a holographic sticker, printers will print on a sheet of holographic vinyl, which already has a rainbow sheen surface. This special base layer is the key that allows the holographic effect to be shown on a holographic sticker.
Thus, except for using a vinyl layer with a 3D effect, printing a holographic sticker is absolutely no different from printing a regular sticker. Ink is printed on the suitable holographic vinyl base to create the desired image and then it is laminated by a see-through laminating film to ensure the durability of the holographic sticker.
We have detailed its 3-layer structure as well as how to make your own holographic sticker in the previous article. Besides, this article also has useful information explaining The 9 most asked questions about holographic stickers such as whether they are waterproof or fade. If you are still concerned, you can find all of this information in our article here.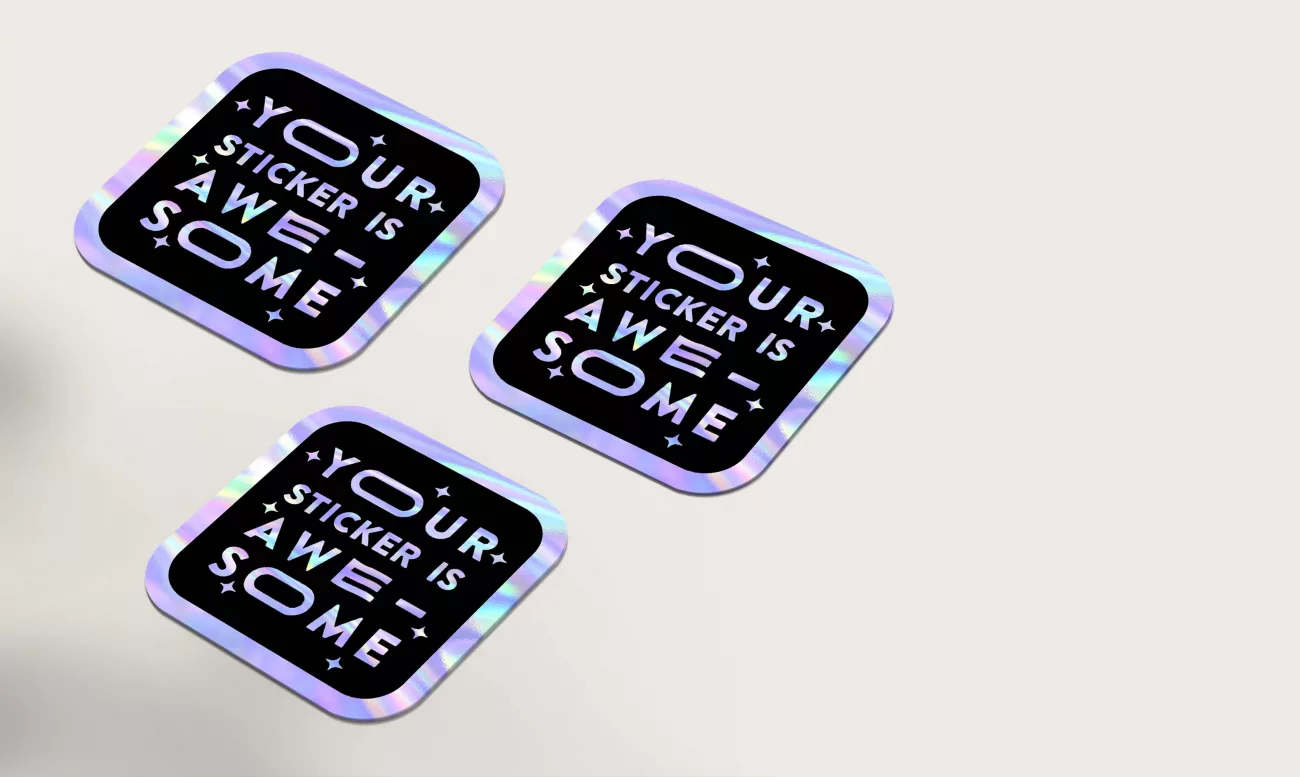 Holographic printing techniques are not required to make holographic stickers
In fact, holographic printing is not a technique used in the holographic sticker's printing process but in the production of holographic vinyl. A polyester or metallic film is embossed (for only about 10 mcm) with irregular lines to form holographic vinyl. This embossing layer reflects and diffract lights, creating holographic colors. The change in embossed pattern will change the effect you see on holographic vinyl.
Thus, holographic printing is not required to print a holographic sticker. Specifically, if you are just a printer that imports base materials from a supplier, holographic printing is completely unnecessary for printing holographic stickers. If you are a crafter and want to make holographic stickers at home, you can easily find these vinyls at stationery stores or on e-commerce platforms. Holographic printing is only needed if you decide to make a printing on holographic vinyl on your own.
What is really needed to print holographic stickers?
When it comes to the questions of how to print hologram overlays, you need to pay attention to 2 factors, that is the materials you use and the design that you will print.
As mentioned above, the change in the materials used will greatly affect the appearance of the finished sticker. You can refer to our article 3 simple methods to make iridescent stickers to better understand how to choose and print on each material to create 3 types of DIY holographic stickers with different effects.
The second thing that you need to keep in mind when making holographic stickers is the design. Since holographic vinyl is already the material that creates the 3D effect on your sticker, all you need to do is design the sticker so that it can get the most out of that rainbow-shine effect.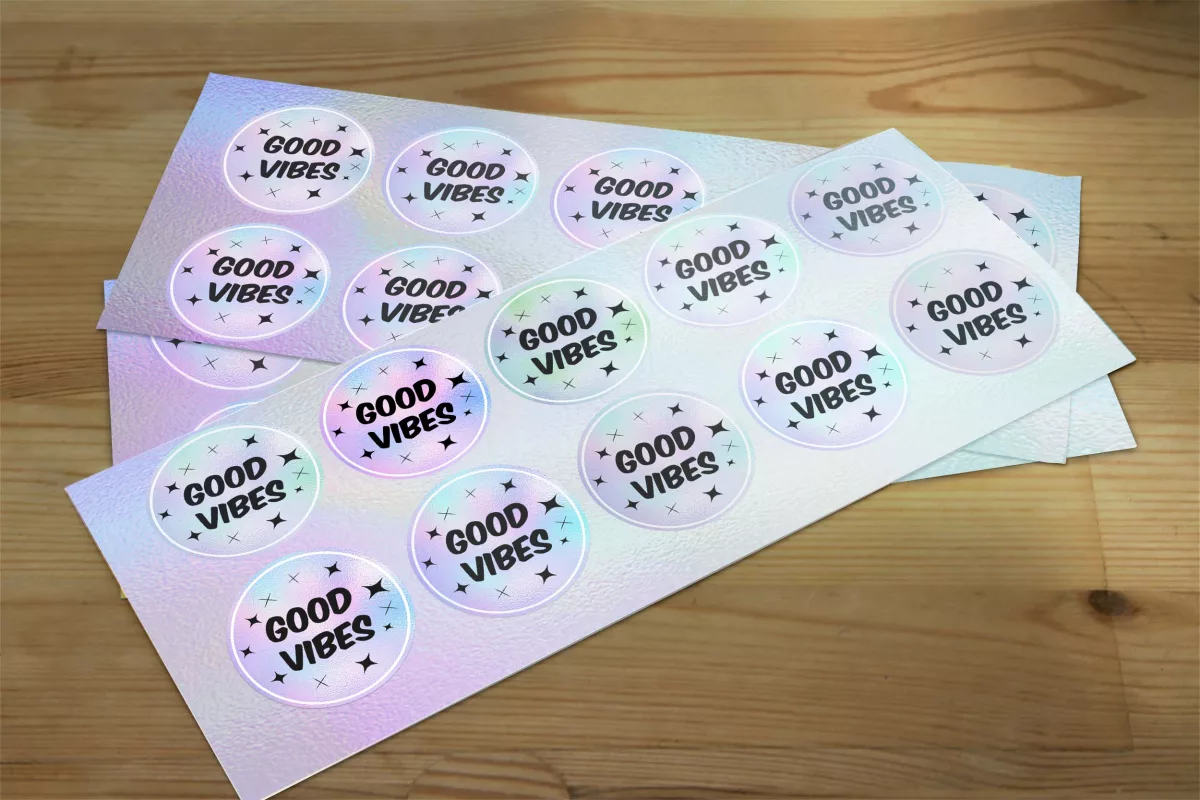 There are 3 top tips for you:
Increase image's saturation.
Leave empty or see-through areas in your artwork.
Use black and white in your sticker design
These are 3 tricks you can use to create contrast and instantly allow holographic effects to pop when you print out your stickers. For a detailed explanation about these tips, you can refer to our previous article.
Conclusion
Holographic printing is the ideal solution for not only packaging or labeling but the sticker materials. Stickers printed on holographic vinyl bring out captivating aesthetics that invite the observers to approach them and also adds a level of exclusivity and quality to the finished product. As the wide range of holographic printing patterns lead to different motifs and faces of the stickers, understanding of holographic prints can help you in producing the excellent and trendy alternative to the traditional product line of stickers and labels.