You just started a business and want your products to impressively handout to your very first customers? Or you are operating a small company and want a significant change that make it standout in the market? Consider making your own custom tape for your packaging and shipment. Using custom packaging tape for small business is an easy, cost-effective way to revamp your packaging process while maintaining safety for your packages. Also, it is the first things that catch customers' eyes when they receive your products, so using them right will help you leave a perfect first impression and at the same time enhance brand awareness.
However, custom packaging tape may be something difficult to make on your own. Knowing that, in this article we will show you 3 reasons why custom packaging tape is a great choice for small businesses and 3-step guide on how you can make this unique addition for your packages.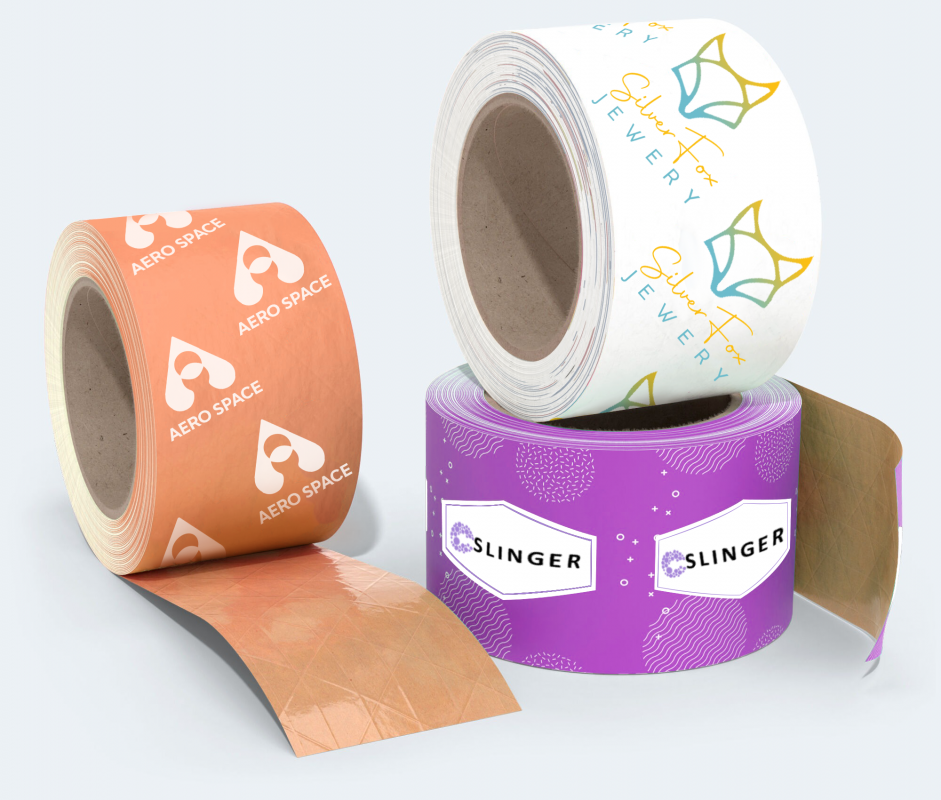 Why Custom Packaging Tape is a Must-have for small businesses
We are all getting familiar with packaging tape which is commonly used for sealing boxes and packages for storage or shipments. In some cases, packaging tape comes with some warnings printed on to ensure that your product are handled correctly. Same with that purpose, these days packaging tapes are widely customized to serve the purpose of marketing besides the traditional purpose of sealing and maintaining boxes. Custom packaging tape allows businesses to advertise their logo, company name, or brand signifier uniquely, so these packages will stand out against others and represent the brand proudly whilst being cost-effective and reliable.
1. Cost Effective Choice
The price of custom adhesive tape is higher than regular tape because of printing fee to customized it. It's an easy thing to see. So why can we claim that using custom tape is an economical option for small businesses?
Actually, if you look further you can see that custom tape is a useful product to reduce costs because just it can serve many different purposes.
Custom tape allows you to print anything on it so it removes the need for multiple tapes for different purposes, such as warning or instruction tape when packaging a parcel. As well, you can print your logos, brand name or slogan on your tape so that it reduces the need for additional branded items such as stickers or stationery. Thus, custom packaging tape can simultaneously reduce storage space for others product which means less materials and less storage costs. Custom tape can not only seal your package boxes but also act as useful marketing technique. By branded your parcels with custom packaging tape, you create brand identity without any extra pay.
With just a slightly higher price for custom packaging tape, you can reduce your material costs, storage costs and save a significant amount of marketing costs. It's quite a profitable investment, isn't it?
2. Create Brand Awareness
Your customers who actually buy your product will be the most important people to care about when you plan to increase brand awareness. Imagine they receiving a well-packaged parcel with custom tape that shows your brand's name, logo and close message for them, they will have a great impression of how you take care of your customers.
Using custom packaging tape, you have the chance to create brand awareness on people who handle your parcel during the shipping process. Before arrived at your customers' door, your packages are handled by multiple different people. With branded packaging tape, these people come into contact with your business. They would be able to identify your parcels which may pique their interest and lead them to your website.
Not only people who touch your package, you can also create brand identity with others through custom adhesive tape. For example, these days there is a trend of unboxing packaging videos from customers on social media. Attractive packaging is a reason that helps your products appear on these videos, thus spread your brand image. Your potential customers are those who looking for product information and review from these type of videos.
Any extra attention to your packages is important for your success, so making yourself standout from the crowd with customized packaging tape is key to boosting your brand awareness.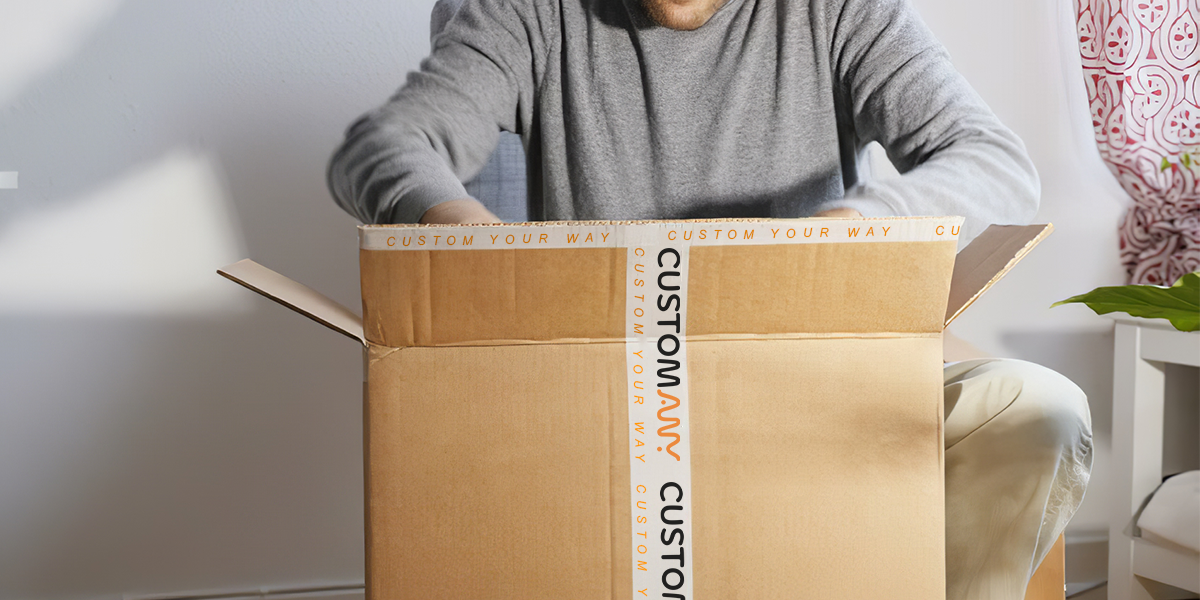 3. Enhance brand image
Creating brand identity is not enough, think of what you can do with packaging tape to build a brand image that customers will remember.
Using custom tape make your brand more reliable. Packaging tape with company logo create an professional look for your parcel and even make better results if you consistently use your branded design on other places such as product labels or sealing stickers.
Improving how you pack an order shows that your really cares about customers, not just about selling products. Branded packaging tape help your company enhance customer unboxing experience. As a result, your customers acknowledge of how you invest in building goodwill with them and create brand loyalty.
Custom packaging tapes are also an environment friendly choice. Most of them made from paper with water-activated adhesive layer (for example custom tapes from CustomAny), so using these eco friendly packaging tape instead of regular plastic adhesive tape means that your company has engaged in the sustainable business.
Thus, being more skillful in choosing materials and images conveyed on your custom tape has helped you build a great brand image in the eyes of consumers.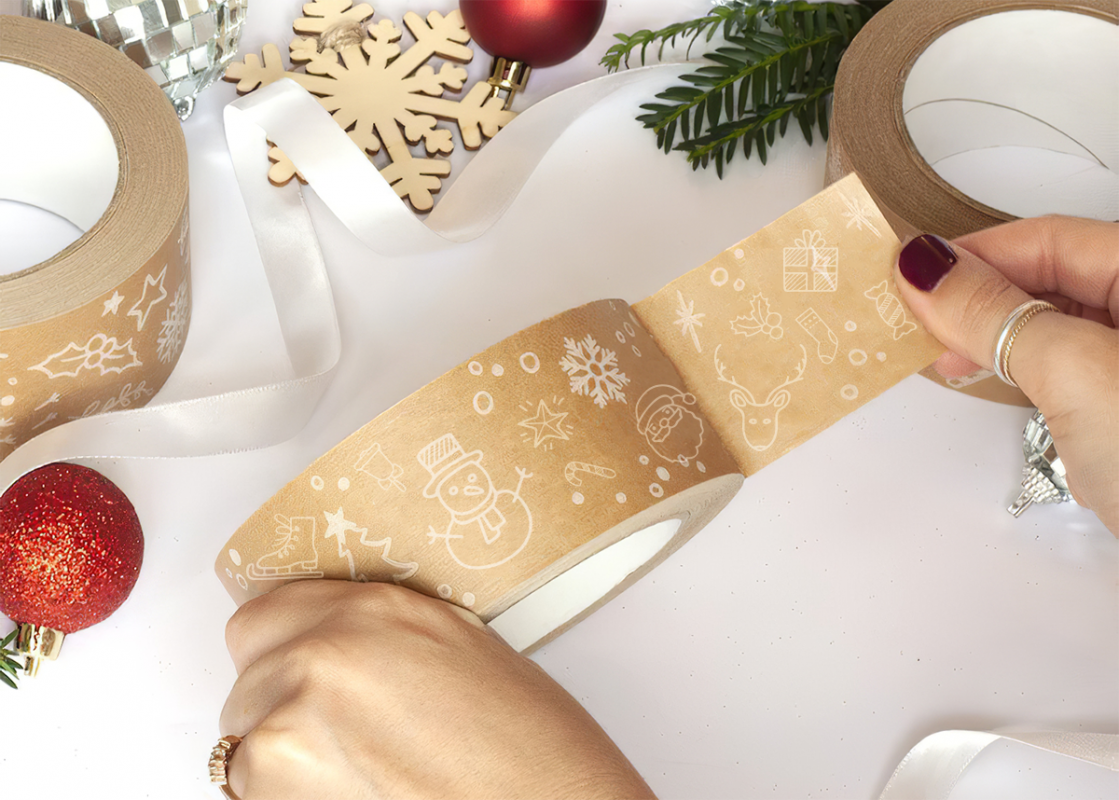 How to order Custom Packaging Tape
With simple comparisons above, you can see significant changes custom packaging tape can bring to your business and now you are heading to create an unique image for your shipments. When ordering custom tapes, make sure that you choose a custom printing manufacturer that offer high quality products and various choice of size and quantity for your desire artwork.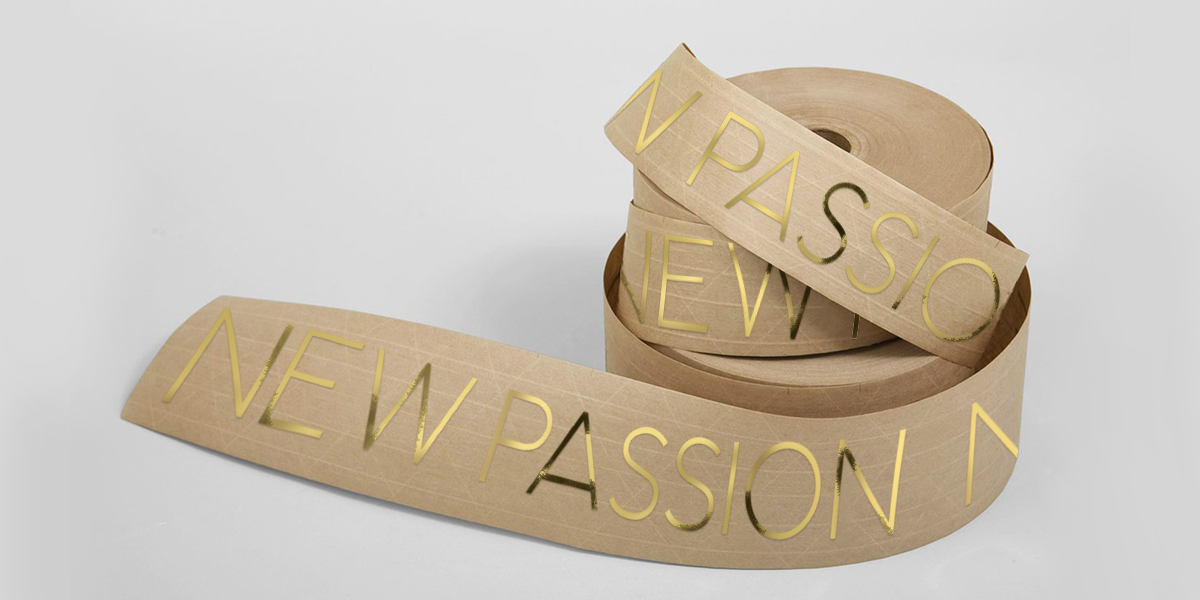 At CustomAny, customize your own branded packing tape for all of your packaging needs has never been easier. We are proudly offer printed tape for no minimum quantity so you can choose a small length of 100 or 300 ft as an example for your first order. Once you are sure about our high quality tape, go for larger quantity to take advantage of our discount.
Here is 3 simple steps you can do to order your branded tape from CustomAny:
Step 1: Prepare your design
There's so many ideas that you can use for your packaging tape: simply put your logo on it, add some positive or funny quotes, or decorate it with festive parterns to use in holiday seasons. When preparing your design, make sure your artwork fill in a space of 2.81" width and 3″ length, this 3″ ID core will be repeated on your finishing tape.
Step 2: Choose your packaging tape's length
When you are done with your perfect tape design, go to our website. On CustomAny's site for custom packaging tape, select the quantity and upload your artwork right below, press the checkout button to complete your order and it's almost done.
Step 3: Check the proofs
After receive your artwork, the proof will be made sent to you within 4 hours after checkout. Changes will be made to your proof for free until youuntil you feel satisfied to make sure your packaging tape will come out exactly as you want.