Do you have any experience with reverse stickers? We bet you have!
Reverse stickers, along with clear stickers and transfer stickers, are the three types of window stickers that can make your store signs dazzling. Each type has its own features that are suitable for different purposes of a store owner who wants to take advantage of their most visible valuable space. Wherein, reverse stickers, the standout one with distinctive and unique features, are ideal for displaying in storefront for seasonal and short time use.
In this article, let's discover what reverse stickers are, why they are the best fit for your occasional storefront display and how to utilize them effectively without exerting too much effort.
1. What are Reverse stickers?
Reverse stickers are sticky pieces that have an adhesive side on the front rather than the back of it. This is the reason why they are also called front adhesive stickers. For most applications, these stickers are designed for applying to a window's interior, thus they have another name as "inside window stickers". However, there are other types that also can be used as window stickers (such as clear stickers, transfer stickers, and other formal stickers), so this one is usually called by the first and the second name.
At CustomAny, the stickers with an adhesive on the front, are made up of 5 layers: the lamination, the printed ink, the clear vinyl, the adhesive and a thick backing. We print your design on an ultra-clear layer of vinyl. For optimal vibrancy, some colors was printed with white ink behind them. Then a gloss laminating layer is applied to behind the ink layer to shield the stickers against water, sunlight, and scratches. On the front side of your sticker, we apply a layer of adhesive, and finally a thick backing layer to give a luxury feel and make reverse stickers simple to peel off.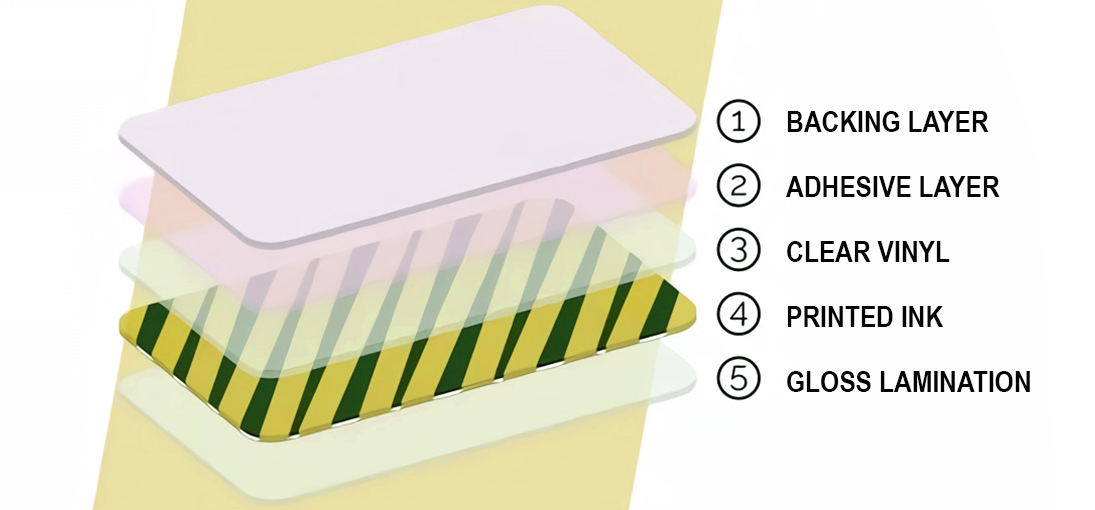 When utilizing front facing adhesive stickers, you need to clean the surface first to make sure no dots are left behind because it will greatly affect the quality of the sticker when viewed from the outside. Then, gently peel the backing paper off, grab the sticker backwards and apply it to the inside of the glass door. Use a credit card or a coin to rub on the surface to push all the air bubbles out so your reverse sticker will stick firmly for the time to come.
2. Where can you use reverse stickers?
Front sticky stickers have a wide range of professional and personal applications.
For personal use:
Simple sticker for window glass as decorations for holidays like Halloween or Christmas
Demonstrating your support for a team or organization by adhering banners or logos to the inside of your car window
Using personalized front adhesive vinyl window stickers to simply let your personality shine
For businesses:
Since reverse stickers are so simple to stick on and take off, use them as storefront stickers that you occasionally need to modify.
Announcement regarding your company or a charitable cause
Show your professional affiliations
Display honors and praise by showing your prizes and certificates
3. Why reverse stickers are great for Seasonal Storefront Display
As mentioned above, reverse side stickers are ideal for storefront display. However it is not just because of their ability of being stuck and peeled easily, there are extra reasons why your business should consider using these stickers to decorate showroom's glass doors. Let us round them up for you.
Fade-proof and water-proof
Reverse stickers, with the sticky side on their front, adheres to the inside of windows. In addition, these stickers are constructed of waterproof plastic. These features limit their exposure to environmental factors like temperature, wind, rain or humidity, so they are resistant to fading in the sun, water, and scratches. To make these stickers resistant to moisture, corrosive oils, and other chemicals, we also cover the printed layer with a transparent gloss overlaminate. The laminate provides remarkable endurance by shielding the printed layer, which makes them intended for use for up to three years.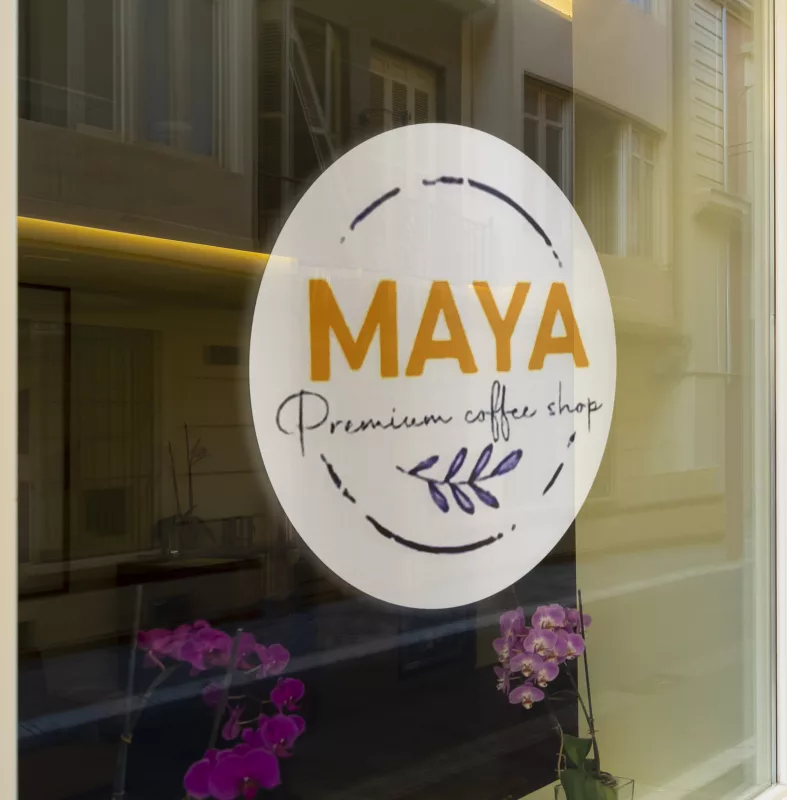 Tamper-proof
Contrary to the stickers with adhesive on the back, reverse stickers are made to stick inside of a transparent surface, such as being used like glass door stickers or car windshield stickers. There's no way for people outside or passerby where you put the sticker to touch it. Thus, using this type helps prevent stickers from being scratched or ripped off against the wishes of the user.
Easy to remove
The medium strength adhesive allows reverse stickers to stick to glass and plastic for a relative time. You can remove them anytime you want and it won't leave any traces behind after use. This is why they are ideal for temporary and occasional decorations such as Chirtmas Eve, Valentine's Day, New Year or any of your store sale events.
More economical
Because it can be easily removed and leaves no residue, reverse stickers are a cost-effective option for store display on your front door. It not only saves you the effort of cleaning, but also saves money if you have to replace an unsightly glass just because you accidentally use stickers with permanent adhesive or investment for painting or expensive signage in large sizes.
4. Storefront reverse stickers application
The application of reverse stickers for glass as storefront displays includes both information-giving as well as decorative purposes. Some common applications you can refer to:
Announcement for occasional sale/event
If your store is running a sale or has a new product launch, you'll want it to be widely communicated to customers. In addition to online channels, you should also pay attention to the customers who frequently pass right in front of your store. For these potential audiences, a signage that catches their eye would be a right step. The announcement reverse stickers adhered right on the glass doors surely fulfill this role.
Display memberships/payment methods
Showing the payment methods applied in the store or the QR code for supporting in payment are popular applications of the reverse stickers. You can adhere them right on the door of the store or on transparent plastic sheets on the checkout counter for customers to easily notice and use.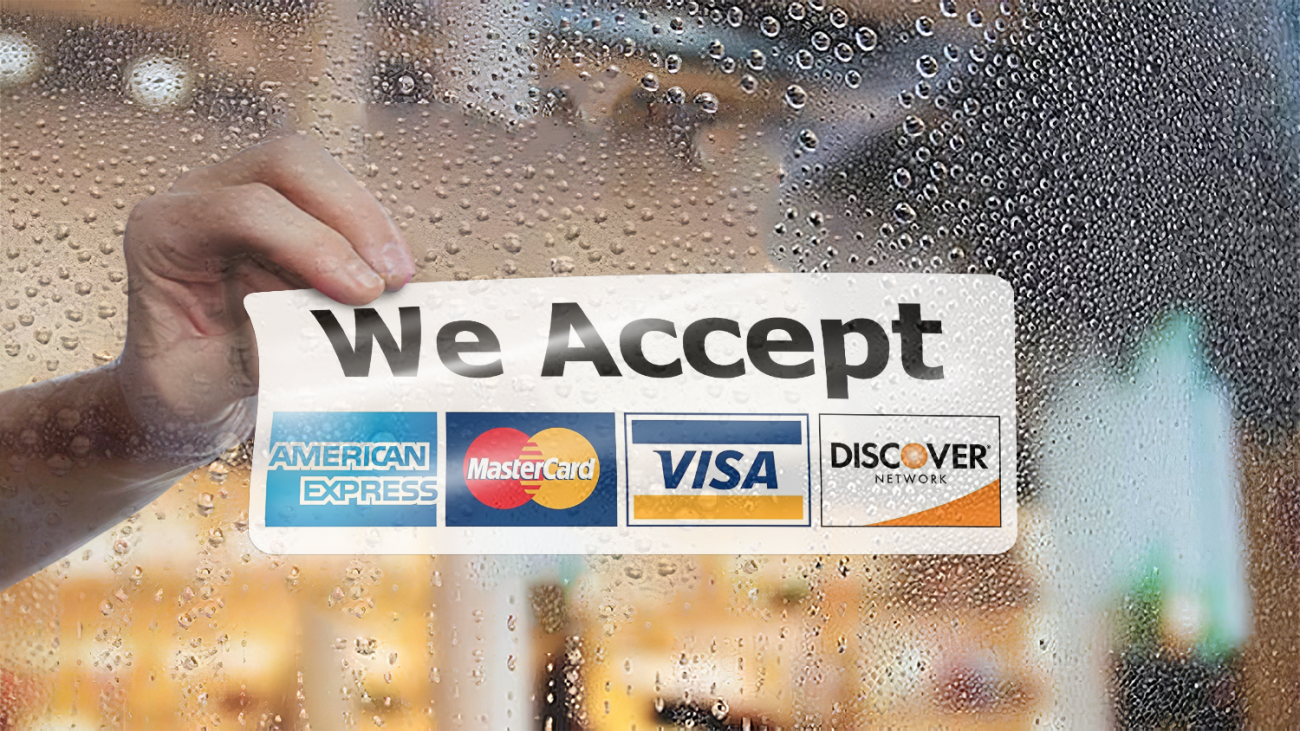 Show off awards and reviews
What about utilizing front adhesive stickers in storefront promoting by printing on it your certificates, awards or good customer reviews. This both promotes your brand image and serves as proof of their trust or loyalty to your product.
Seasonal decor
How to decorate your store for seasonal and occasional events on a budget? Use reverse stickers. There are many front facing adhesive sticker designs that you can try for Christmas, Halloween, New Year Eve, Valentine's Day or whatever the event is. We sure these temporary window stickers would never let you down.
High quality front adhesive stickers produced by CustomAny are ideal for showing your custom design through a transparent surface. Front adhesive allows these stickers to be positioned on the inside, which keeps them from being unintentionally scraped away or damaged by weather conditions. As they come with temporary adhesive, they can be removed anytime with leaving no trace behind. Thus, reverse stickers are excellent ways to advertise your company, draw attention to the issues your brand supports, or provide simple access to product information in storefront windows.