For a dog lover, nothing is better than having dog-themed items to bring along with them everywhere. And dog mom stickers provide one of the most convenient and affordable ways for dog moms to convey their love for their dogs.
Dog moms can choose from numerous available tickers or create their own stickers until they discover the one that perfectly suits their needs. And then, they can apply these stickers on everything, from their cars and house walls to their laptops and water bottles.
Here, we list some of the best and most exciting sticker applications to give you some creative ideas for using dog mom stickers. Let's find out!
1. Customized dog's name car bumper stickers
A funny dog mom bumper sticker can keep the people in the vehicles behind you amused while you're on the road. Additionally, nothing gets a mom dog happier than seeing a dog mom car decal on the vehicle, which exclaims the owner's pride in having a dog.
The variety of personalization choices available is one of the best features of modern dog decals for cars. Many alternatives exist, and you can get them in either white or clear vinyl.
Sticking transparent dog mom stickers on your car's windows is something we highly encourage. These stickers are perfect for decorating car windows without obstructing your vision.
It is also highly advised that you get a dog mom stickers with clear and precise application instructions to ensure that it does not cause any harm to the paint of your vehicle. You should consider purchasing these stickers designed from robust and high-quality vinyl for outside use.
If you need to get your messages clear, it's generally best to use solid colors rather than complex shading (which could be lost in bright sunshine).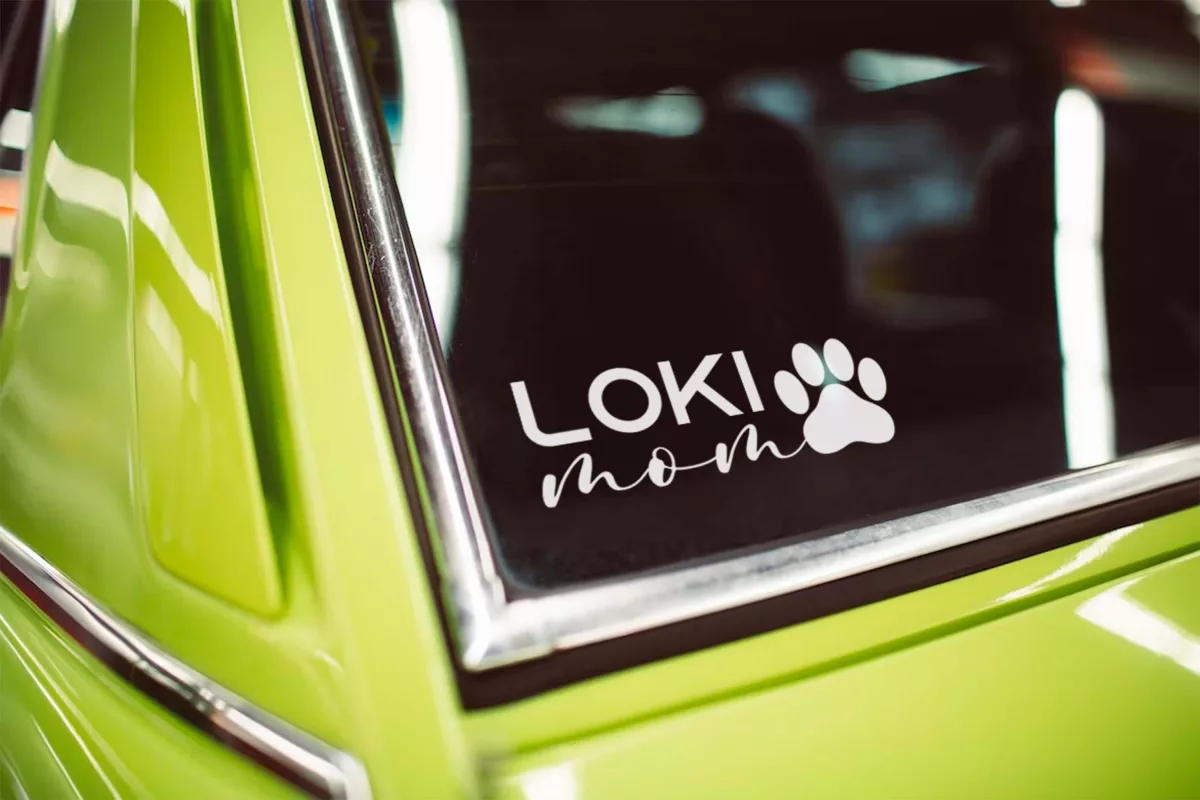 2. Funny dog mom quotes stickers for laptops
The laptops are the perfect spot to display photos of our lovable pets.
Stickers celebrating your status as a dog parent will transform your laptop from a generic piece of tech to a reflection of your unique personality. When you decorate laptops, you have even more room for creativity since you may create large laptop decals (also known as laptop skins) to give the device a striking and fully unique appearance.
Besides, kiss-cut dog mom stickers, which are very similar in appearance to die-cut stickers, work best for this particular application (cut-to-measure stickers instead of stickers with a background).
For a valuable appliance like a laptop, you should consider purchasing removable dog mom stickers, which protect your laptop's paint. A clear laptop skin is also an excellent option to prevent the sticky part of the dog mom stickers from damaging your laptop. It will act as an extra protection layer that prevents the sticker from contacting directly with your laptop's paint.
3. Personalized pet photo stickers
Sharing pictures of your furry friends is a lot of fun when you use personalized photo stickers.
Consider all the images that might be used as photo stickers, and let's generate one-of-a-kind dog mom stickers remembering your special events. Feel free to express your creative side by accessorizing your pet's images with caps, earrings, sunglasses, or anything else you think would make the picture more amusing or adorable.
You may place them anywhere! They are ideal for water bottles, mobile phones, laptops, walls, and cars. Depending on their intended location, you should choose the pet photo stickers' materials appropriately. Dog mom stickers intended for outdoor usage should be waterproof, scratch-resistant, and resistant to fading from direct sunlight. Glow-in-the-dark vinyl, for example, is not designed for outdoor usage but may be used inside for up to five years.
4. Dog mom decal for walls and doors
These days, many people use personalized dog mom stickers while decorating their rooms. In addition to their aesthetic value, wall stickers are a simple and inexpensive way to brighten up any room with your lovely pet. Moreover, this is a fantastic method for guaranteeing that you will have a completely unique bedroom that shouts your love for your four-legs friends.
When choosing the dog mom stickers, think about the room it will go in, the other furniture, the paint on the walls, etc.
Use our wall decal designs to quickly and cheaply transform a room in your home. This is an option for renters who want to add dog mom stickers to their living quarters but are prohibited from painting. Dog mom decals may be applied, removed, and reapplied to a surface without affecting the paint.
For the colored painting wall, you should carefully combine the color of this wall with a suitable and harmonious decal color. For example, color pairs that work well together are white-black, black-pink, blue-pink, lime green-electric blue, etc..
5. Pet treat jar sticker/ personalized name stickers
The candy jar sticker is something both mom and dog will adore. It's a little something to liven up a dull glass jar. You may wash them repeatedly without any quality degradation.
These stickers are handy in any dog-rearing situation, especially when caring for many pets. They will tell you precisely what a dog eats. As a result, you'll always be able to reliably provide each dog with the specific sort of food that they like.
Choose a label sticker that adheres well to common smooth surfaces like glass, metal, and ceramic. We also recommend you choose pet treat jar stickers from high-quality sticky vinyl that, when removed, does not leave any residue behind. This way, you can reuse them for another empty candle or coffee jar.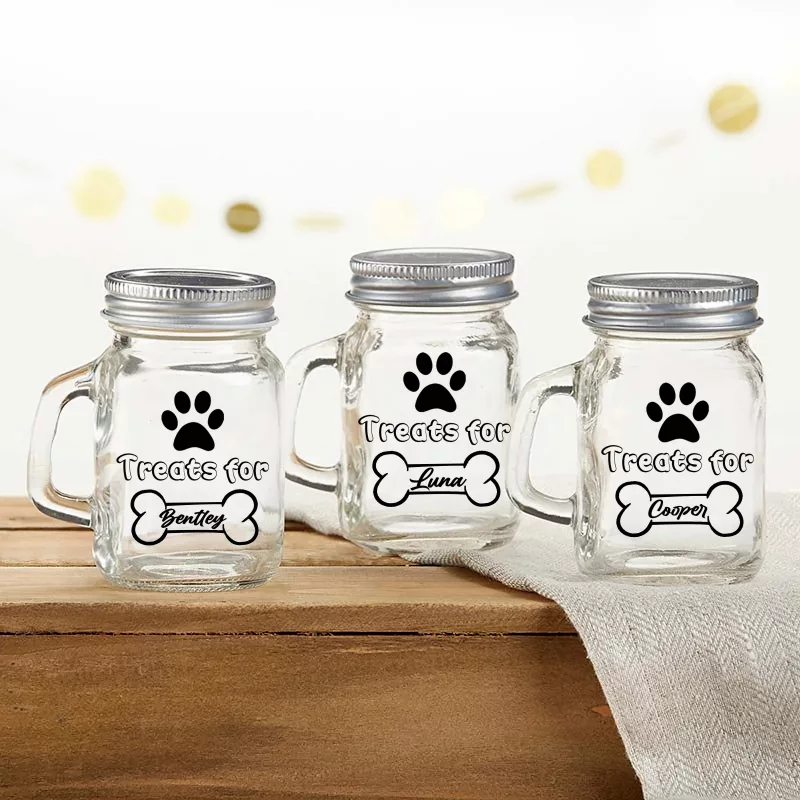 6. Inspirational quotes sticker for tumblers
Tumblers (which people like to carry about constantly) are a popular object to decorate with custom dog mom stickers as the number of individuals who care for pets continues to rise.
Do we all like reading motivational quotes now and then?
We need a little inspiration, and great quotations can do just that. Put some motivational words about your cute dogs, or funny dog mom quotes on your tumbler. You can, for instance, put a sticker on your tumbler that says "Does my dog think i'm his mom ".
That way, you'll feel a bit happier and mood-booster every time you hydrate.
The best dog mom quote stickers to put on tumblers should be made of outdoor vinyl (also called permanent vinyl). This vinyl is water-resistant and has a strong adhesive. It is also dishwasher safe, so you can use it for your tumblers for a longer time.
Conclusion
Dog mom stickers are a fun and easy way to show off your dog to every one of your friends and family. Just be sure to pick the sticker of the adorable furry friend and then it will be great dog mom mothers day gifts for yourself or your beloved ones on happy national dog mom day.
Now, it's time to use any of the abovementioned dog decal applications to show the affection you have for your four-legged pal.